The versatile streaming component for your stereo or receiver.
Connect Port to your traditional stereo to stream music and more. Enjoy control with the Sonos app or Apple AirPlay 2, and easily expand your sound system to more rooms.
Stream all your favorites
Enjoy music, podcasts, audiobooks, and internet radio with your amplified audio equipment. You can also stream vinyl, CDs, and stored audio files to Sonos speakers in other rooms of your home.
Apple AirPlay 2 on Sonos
Stream sound directly from your iPhone or iPad and ask Siri to play Apple Music.
Use the line-in to connect your phone or another device to your stereo.
Need help from a professional?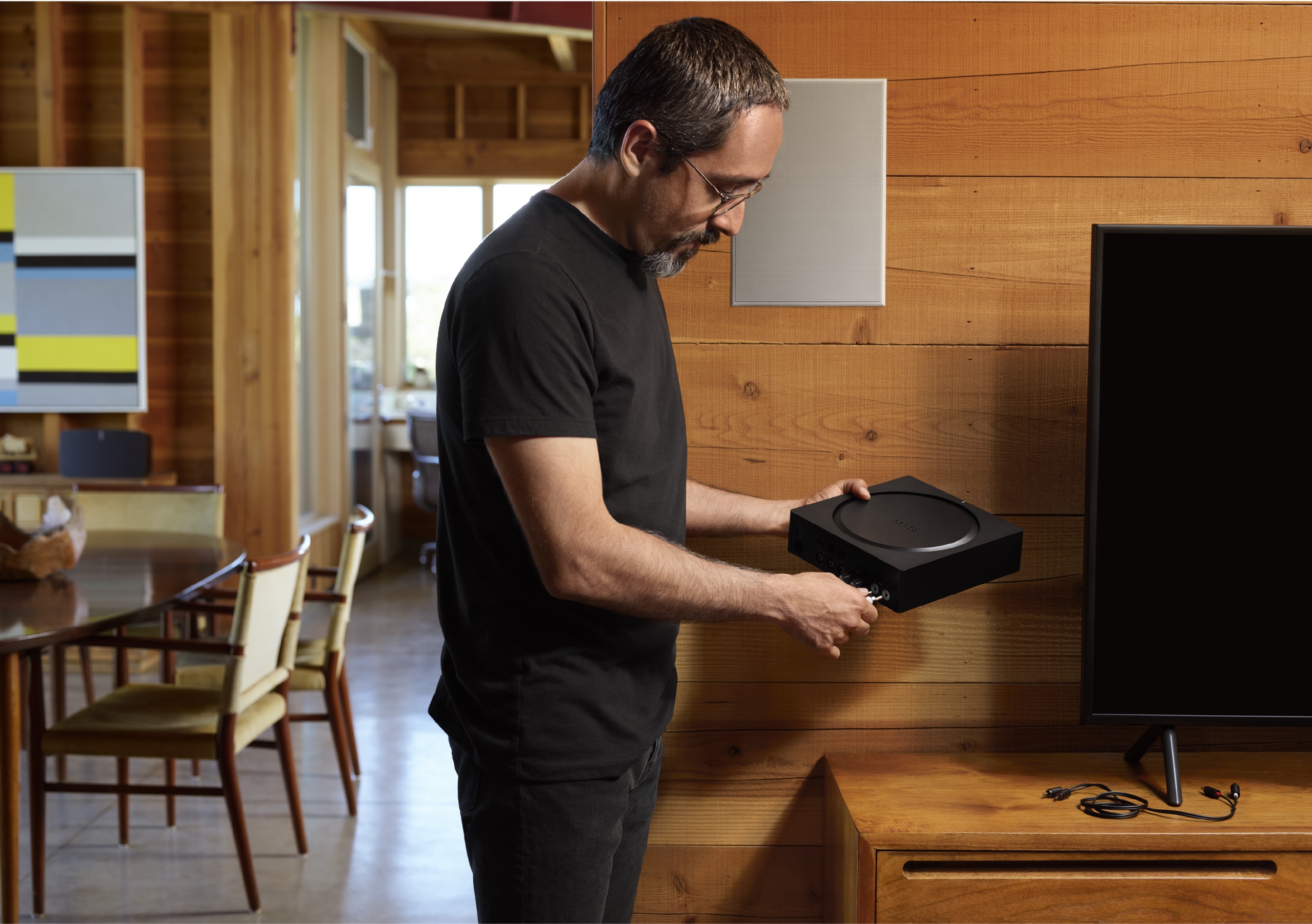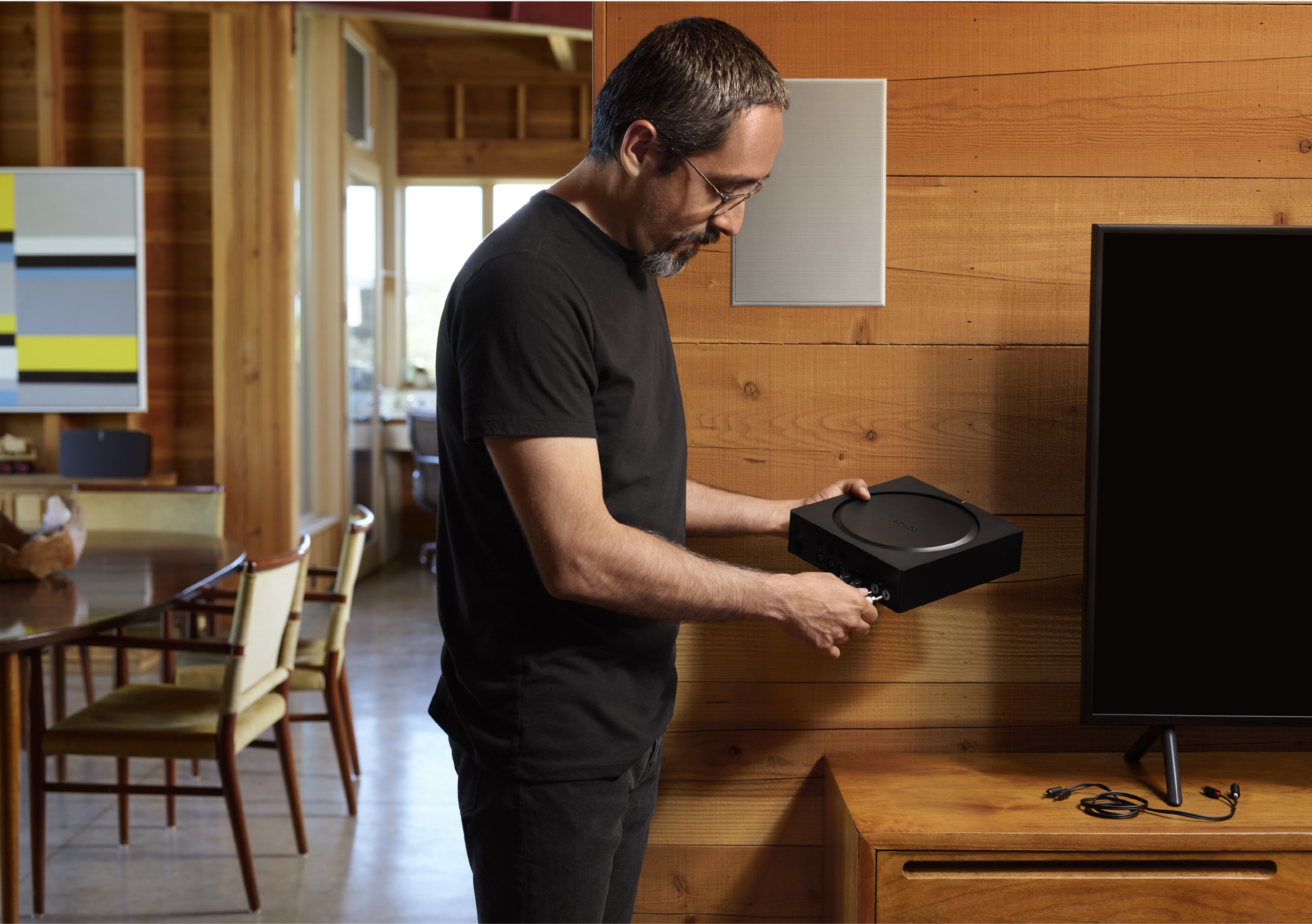 Get an expert to help you design and install your dream Sonos system. They'll take care of everything, from drilling into your ceiling and walls to connecting your TV.
Sonos Radio HD is here
Upgrade to the ultimate radio experience.
Audio line-in to bring your record player, CD player, or other audio source into the Sonos ecosystem.
Audio line-out through either analog (RCA) or digital (coaxial) for connecting amplified audio equipment.
12V trigger turns on your stereo or receiver automatically when a signal is sent so there's no extra steps or remote needed.
Adjustable bass and treble controls to optimize sound performance. Adjust volume by individual room or by groups of rooms.
Dimensions - H x W x D
1.6 x 5.4 x 5.4 in. (41 x 138 x 138 mm)
Weight
1.04 lbs. (0.472 kg)
Product finish
Matte black
Light
LED indicates status.
Power supply
Auto-switching 100-240 V, 50-60 Hz AC universal input.
Ethernet ports
Two 10/100 Mbps Ethernet ports. Wire directly to your router if WiFi is unreliable.
WiFi, not Bluetooth
Connects to your home WiFi network with any 802.11a/b/g/n, 2.4 and 5 GHz broadcast-capable router for uninterrupted wireless streaming.
Apple AirPlay 2
Works with AirPlay 2 on Apple devices iOS 11.4 and higher.
System requirements
Amplified audio equipment with analog or digital audio inputs, or an audio source with audio output, and broadband internet.
Port, Power Adapter, RCA cable, Quickstart Guide, and Legal Booklet
Simple financing
Set up low monthly payments when you select Klarna at checkout.
Free shipping
Enjoy free expedited shipping anywhere within the US.
Easy returns
Not exactly what you wanted? Return it within 45 days. We'll cover shipping.
Professional installation
Listen now, pay later
Creating your sound system is even easier when you finance with Klarna.
Easy payments
Get low monthly payments with special financing.
Flexible plans
Set up payments that match your budget.
Pay in installments
Shop today and split purchases into 4 equal interest-free installments.
How is Port different from Connect?
Port is the successor to Connect, delivering richer sound and extending Sonos' sound platform to your traditional home audio equipment. Port includes an updated digital-to-analog converter for clearly detailed sound and a 12V trigger, which automatically turns on your amplifier to more reliably initiate playback. Port also allows you to control content using Apple AirPlay 2 and features a versatile design compatible with a standard AV rack.
What's the difference between Port and Amp?
While both Port and Amp offer streaming capabilities and allow you to bring your wired speakers into the Sonos system, the main difference between the products is amplification. Amp powers passive speakers, such as in-wall or in-ceiling speakers. Port cannot power audio equipment, which means it requires either a powered amplifier or powered speakers.
Do I need Port if I only plan on using Sonos wireless speakers?
No. Sonos wireless speakers, such as Sonos One or Beam, can connect directly to the Sonos system over WiFi without Port.
Can I use my voice to control Port?
Port supports voice control with either Amazon Alexa or the Google Assistant when connected to a voice-enabled device, such as Sonos One, Beam, Amazon Echo Dot, or Google Home, over WiFi.
Can I connect Port to my turntable?
Yes, you can connect Port to your turntable to stream vinyl to Sonos speakers throughout your home.
What do I need to use Port with a turntable?
You'll need a turntable with a phono preamp as well as speakers. Plug in a standard audio-in connection to the back of Port. Then in the Sonos app go to Browse and select Line-in to control the sound.
Does Port improve sound quality of speakers?
While overall sound quality factors on the internal components of your speakers, Port's new digital-to-analog converter ensures streaming sound to traditional speakers is as clearly detailed as possible.
Does Port have touch controls?
Port is typically connected to a stereo or receiver with volume controls. To avoid two separate volume adjustments for the same system and to keep it as simple as possible for the listener, Port does not have touch controls.
Can I connect Port directly to a TV?
Port is not designed to be used with a TV. Port has an analog audio input, which you could wire into a TV to stream audio to any Sonos component or speaker. That said, the line-in isn't designed for use with a TV and will result in some latency or lip sync issues while the audio is converted from analog to digital.
Products with digital connections, such as Playbar, Playbase, Beam, and Amp, are recommended for use with a TV.
Can I connect Port to a third-party receiver or amplifier to power a set of rear or surround speakers?
Port does not power rear or surround speakers.
Can I connect Port to a third-party soundbar?
Port can be used as a streaming source for a third-party soundbar using either the RCA output or the digital coaxial output.
If I don't use hardwired speakers, how else can I use Port?
Port's RCA input can connect turntables, CD players, iPods, DACs, and other audio devices, allowing you to stream vinyl, CDs, and locally stored audio files to wireless Sonos speakers throughout your home.
What is Bluetooth Low Energy and how does Port use it?
Bluetooth Low Energy (BLE) creates a wireless personal area network so that Port can temporarily communicate with your phone or tablet to simplify the first-time setup process. Once setup is complete, Port relies on WiFi for streaming and updates.
Take a comprehensive look at the set up, function, and maintenance of Port. The user guide details all of its specifications and how to care for your Sonos product.
All your services in a single app
Sonos S2 is more than just an app. It's a platform that brings together all your streaming, voice, and control services so you can easily browse music, radio, podcasts, and audiobooks and listen your way.