The architectural speakers by Sonance for outdoor listening.
Get detailed sound in your backyard or on your patio with Sonos Outdoor by Sonance. Power these wired speakers with Amp to enjoy the full Sonos experience.
Weatherproof
These speakers are engineered to withstand humidity, water, salt spray, heat, UV rays, and freezing temperatures.
Sonos Architectural powered by Amp
With a shared commitment to superior sound and great design, Sonos and Sonance have partnered on a collection of passive architectural speakers optimized for Sonos Amp.
Passive speakers require an amplifier.
Need help from a professional?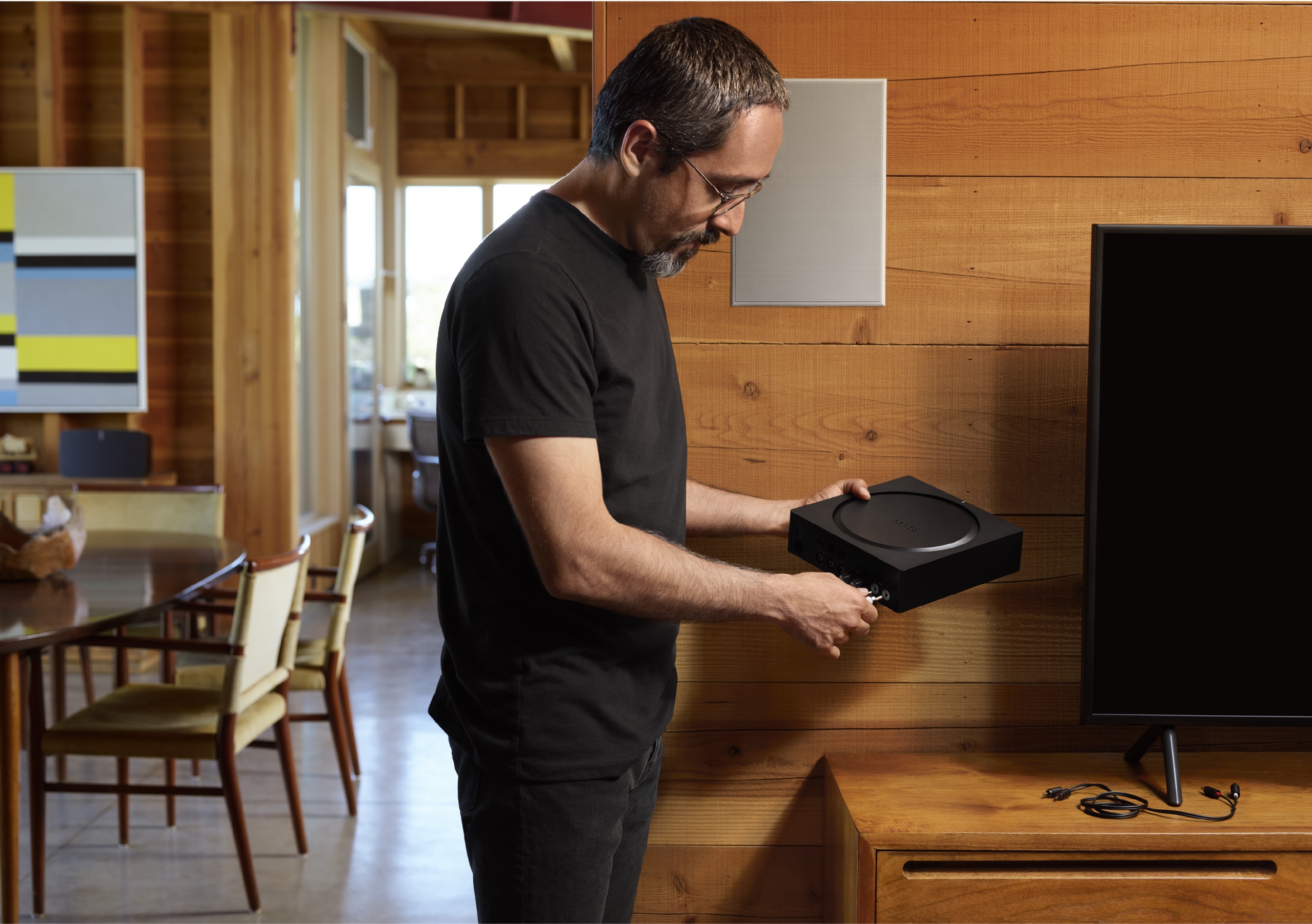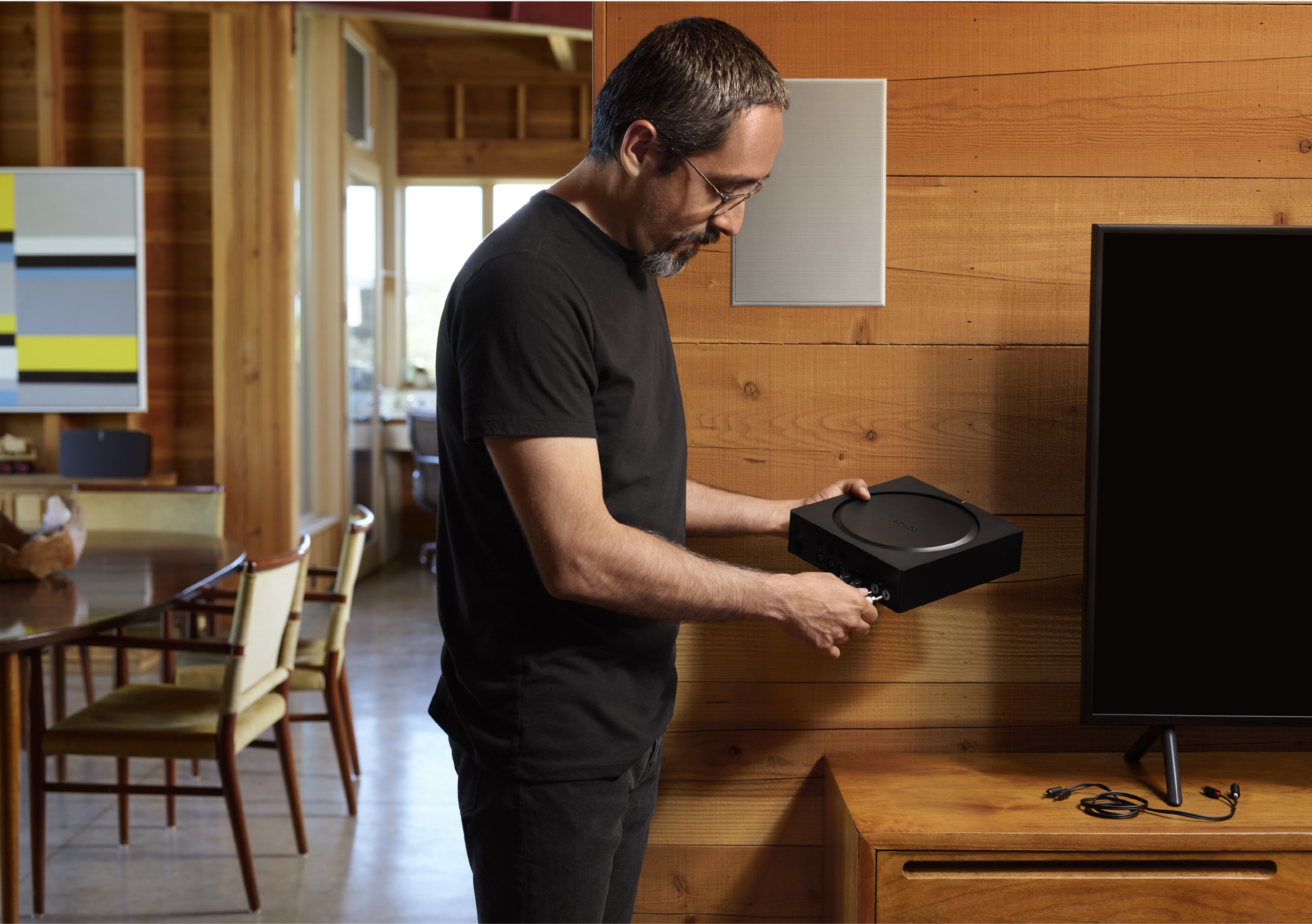 Get an expert to help you design and install your dream Sonos system. They'll take care of everything, from drilling into your ceiling and walls to connecting your TV.
Dimensions - W x H x D
12.96 x 7.52 x 7.83 in. (329.2 x 191 x 199 mm).
Weight
8.81 lbs. (3.995 kg) per speaker.
2 each of Outdoor Speakers, Speaker Grilles, FastMount Brackets, Wiring Terminal Covers, and (1) Installation Manual
Free shipping
Enjoy free 2-day shipping anywhere within Canada.
Easy returns
Not exactly what you wanted? Return it within 45 days. We'll cover shipping.
Professional installation
What does it mean that these speakers are optimized for Sonos Amp?
When these speakers are connected to Sonos Amp, the Amp will automatically detect them, and automatically adjust the sound to be best for that speaker. This is only possible because we designed the speakers from the ground up with Sonance. This also means the indoor models (In-Wall and In-Ceiling) are the only passive speakers to support Sonos' Trueplay tuning, which tunes the system to the room environment.
Will all three speakers support Trueplay?
No, only the In-Wall and In-Ceiling speakers will support Trueplay. The Outdoor speakers will not, since the outdoor environment is not favourable to Trueplay.
How many pairs of speakers can be installed together on a single Sonos Amp?
The Sonos Amp has been designed to power up to three pairs of Sonos Architectural speakers on a single Sonos Amp.
Can I use these speakers with amplifiers other than the Sonos Amp?
The Sonos Architectural speakers will work with most amplifiers. However, you will not be able to take advantage of the TruePlay room tuning capabilities with any amplifier other than Sonos Amp.
Can Sonos Architectural speakers be installed outdoors?
Only the Sonos Outdoor by Sonance model is rated for outdoor use. The In-Wall and In-Ceiling models are not rated for outdoor use and should only be installed indoors.
What type of wire should be used to connect my speakers to Sonos Amp?
We recommend using wire that is 16ga or larger. For the in-wall and in-ceiling speakers we recommend using wire rated to be buried inside of walls and ceilings. For the outdoor speakers we recommend using wire that is rated for outdoor use.
Take a comprehensive look at the setup, function, and maintenance of Outdoor Speaker (Pair). The user guide details all of its specifications and how to care for your Sonos Outdoor by Sonance speakers.