Enjoy crystal clear sound and comfortable listening from anywhere in the room with a pair of Sonos In-Ceiling by Sonance speakers powered by Amp.
Includes: Amp, In-Ceiling Speaker (Pair)
Create an invisible sound system
Get brilliant sound without compromising space or design with Sonos In-Ceiling by Sonance, a collection of architectural speakers optimized for Amp.
Sound customized to your home
Amp unlocks Trueplay™, which accounts for the size, construction, and layout of the room where the speakers are placed and adjusts for the best possible sound.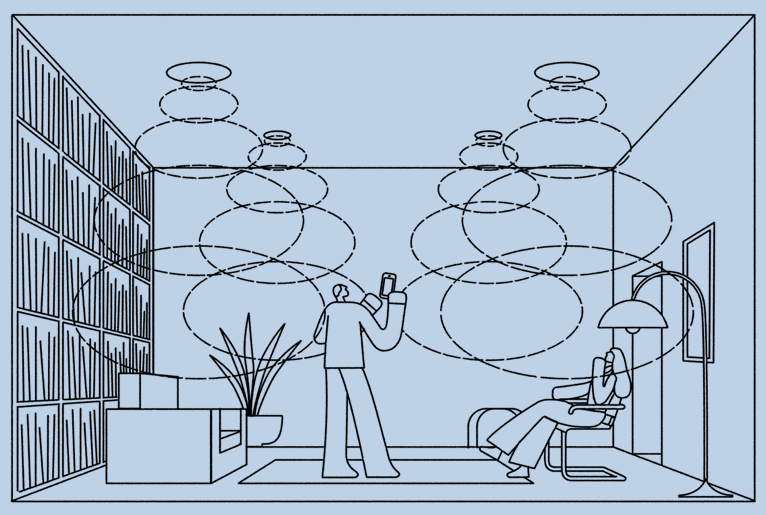 Need help from a professional?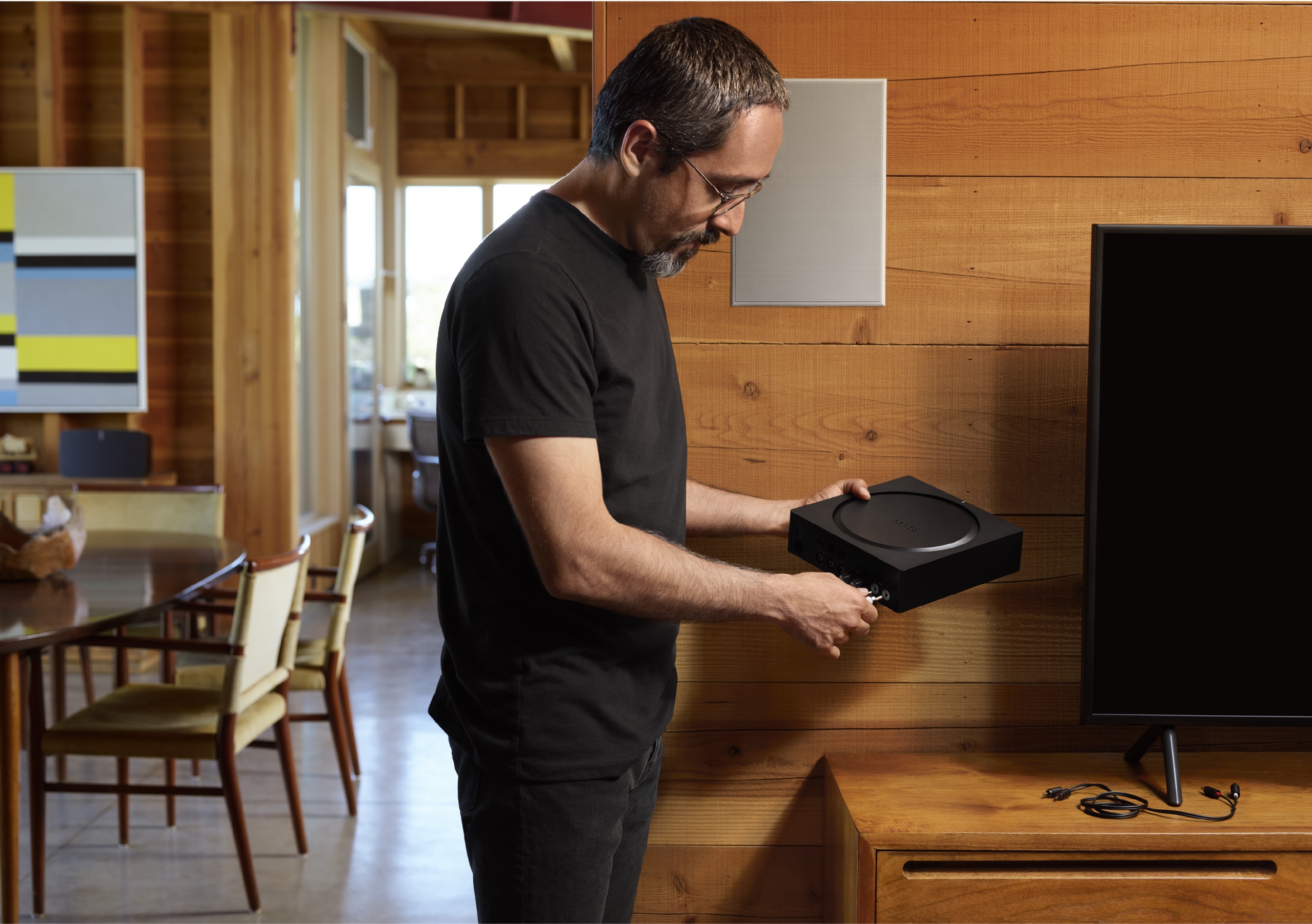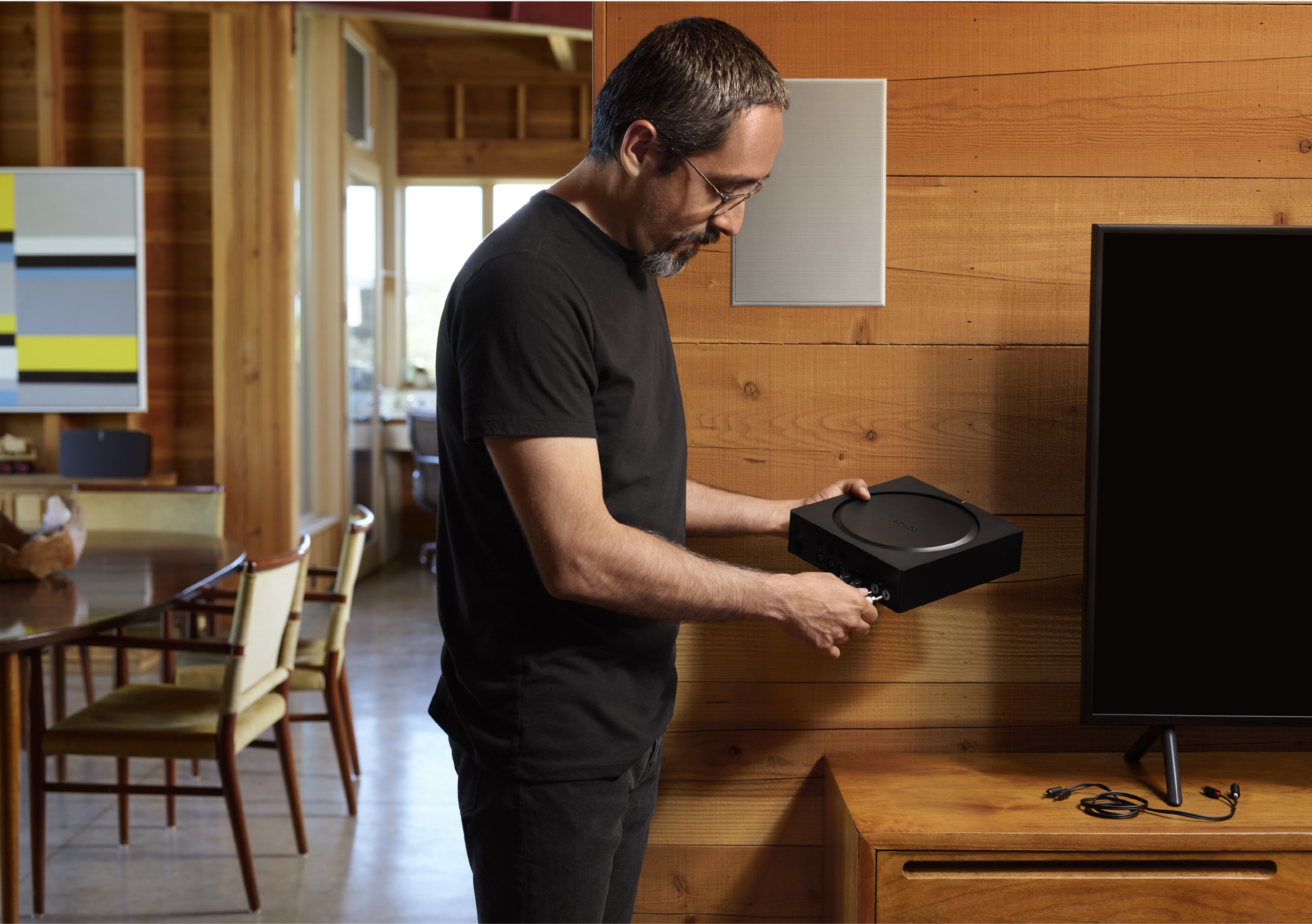 Get an expert to help you design and install your dream Sonos system. They'll take care of everything, from drilling into your ceiling and walls to connecting your TV.
Class-D digital amplifier. 125W/Ch at 8 ohms
Line-In Sources Supported: Audio device with analogue RCA output or optical output (optical adaptor required). TV device with HDMI ARC or optical output (optical adaptor required).
Subwoofer output: Auto-detecting RCA type, user-adjustable 50-110 Hz crossover
Speaker output connections: Banana plugs (2) capable of stereo or dual mono sound.
Adjustable bass and treble controls to optimize sound performance. Adjust volume by individual room or by groups of rooms.
Dimensions - H x W x D
2.52 x 8.54 x 8.54 in. (64 x 217 x 217 mm).
Controls
Touch interface with volume up/down, previous/next track and play/pause.
Dimensions - Diameter x Height
9.27 x 4.84 in. (235.4 x 123 mm).
Dimensions - Cut Out - Diameter
8.25 in. (210 mm).
Weight
5.01 lbs. (2.275 kg) per speaker.
Power supply
AC 100-120/220-240 V, 50-60 Hz
WiFi, not Bluetooth
Connects to your home WiFi network with any 2.4GHz 802.11 b/g/n broadcast-capable router for uninterrupted wireless streaming. 5GHz is not supported – you can either enable 2.4GHz 802.11b/g/n in router settings or connect a Sonos product to your router.
Ethernet ports
Dual Ethernet ports can connect Amp to a wired home network and allow for connection of additional Sonos players.
Apple AirPlay 2
Works with AirPlay 2 on Apple devices iOS 11.4 and higher.
2 In-Ceiling Speakers and 1 Cut Out template
Sonos Amp, Sonos banana plugs (2), AC power cord, Quickstart Guide, and Legal Booklet
Free shipping
Enjoy free 2-day shipping anywhere within Canada.
Easy returns
Not exactly what you wanted? Return it within 45 days. We'll cover shipping.
Professional installation
What does it mean that these speakers are optimized for Sonos Amp?
When these speakers are connected to Sonos Amp, the Amp will automatically detect them, and automatically adjust the sound to be best for that speaker. This is only possible because we designed the speakers from the ground up with Sonance. This also means the indoor models (In-Wall and In-Ceiling) are the only passive speakers to support Sonos' Trueplay tuning, which tunes the system to the room environment.
Will all three speakers support Trueplay?
No, only the In-Wall and In-Ceiling speakers will support Trueplay. The Outdoor speakers will not, since the outdoor environment is not favourable to Trueplay.
How many pairs of speakers can be installed together on a single Sonos Amp?
The Sonos Amp has been designed to power up to three pairs of Sonos Architectural speakers on a single Sonos Amp.
Can I use these speakers with amplifiers other than the Sonos Amp?
The Sonos Architectural speakers will work with most amplifiers. However, you will not be able to take advantage of the TruePlay room tuning capabilities with any amplifier other than Sonos Amp.
Can Sonos Architectural speakers be installed outdoors?
Only the Sonos Outdoor by Sonance model is rated for outdoor use. The In-Wall and In-Ceiling models are not rated for outdoor use and should only be installed indoors.
I have existing in-ceiling/in-wall speakers. Will these speakers be able to replace my existing speakers?
The Sonos In-Ceiling by Sonance speakers use a cutout hole that is 210 mm (8 1/4") in diameter. If your existing hole is that size (or smaller) the Sonos speakers will fit but may require a small amount of drywall to be removed (if the hole is smaller than 210 mm). The Sonos In-Wall by Sonance speaker cutout dimension is 176 x 273 mm (7" x 10 3/4"); if your opening is the same size or smaller, the same rules apply. If your opening is larger than these holes, the speakers will not fit, and drywall work will be required to patch and recut a hole to fit your Sonos Architectural speakers.
What type of wire should be used to connect my speakers to Sonos Amp?
We recommend using wire that is 16ga or larger. For the in-wall and in-ceiling speakers we recommend using wire rated to be buried inside of walls and ceilings. For the outdoor speakers we recommend using wire that is rated for outdoor use.
Where should my in-ceiling speakers be installed in my ceiling?
We recommend placing your speakers in locations in the ceiling that will provide smooth and even balanced coverage in as many locations as possible in the room. If your room is large, we recommend a second pair of speakers to provide the room with the best coverage and the optimal listening experience.
I want to use in-ceiling speakers as rear surrounds for a 4.1 or 5.1 surround sound system. Where should I install them?
The speakers should be installed above and slightly behind the primary seating position.