The most powerful speaker for high-fidelity sound.
Experience pure, vibrant sound with Play:5, tuned by renowned producer Giles Martin. Control it with the Sonos app, Apple AirPlay 2, and more.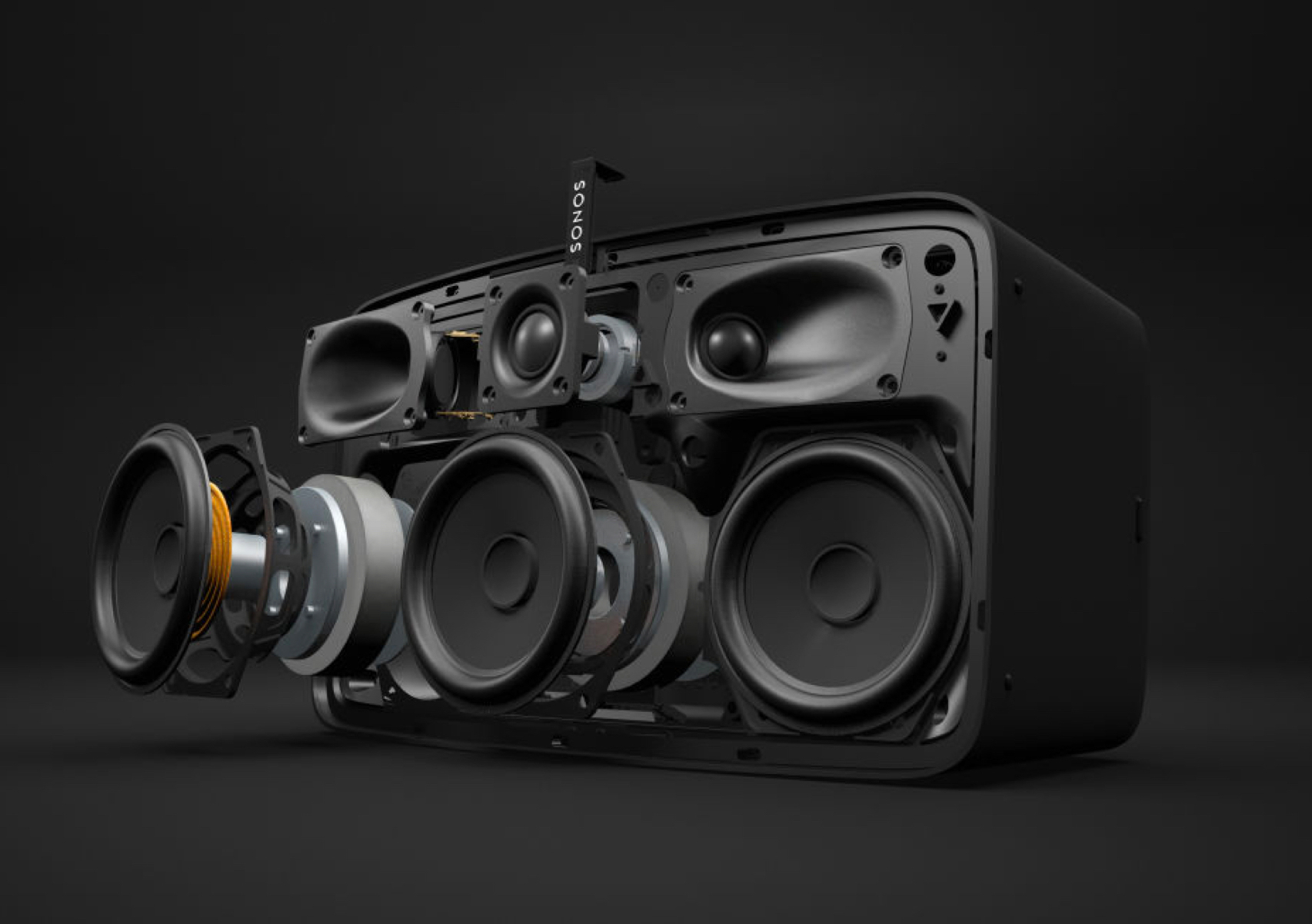 Three custom-designed woofers deliver rich bass whilst the sealed architecture eliminates reverb and echo.
Listen in stereo
Pair two Play:5s in the upright position and each speaker smartly adjusts to mono for incredibly detailed stereo separation. Place a single Play:5 horizontally and it plays stereo sound automatically.
Use the line-in to connect your turntable or a friend's phone with the built-in 3.5 mm jack.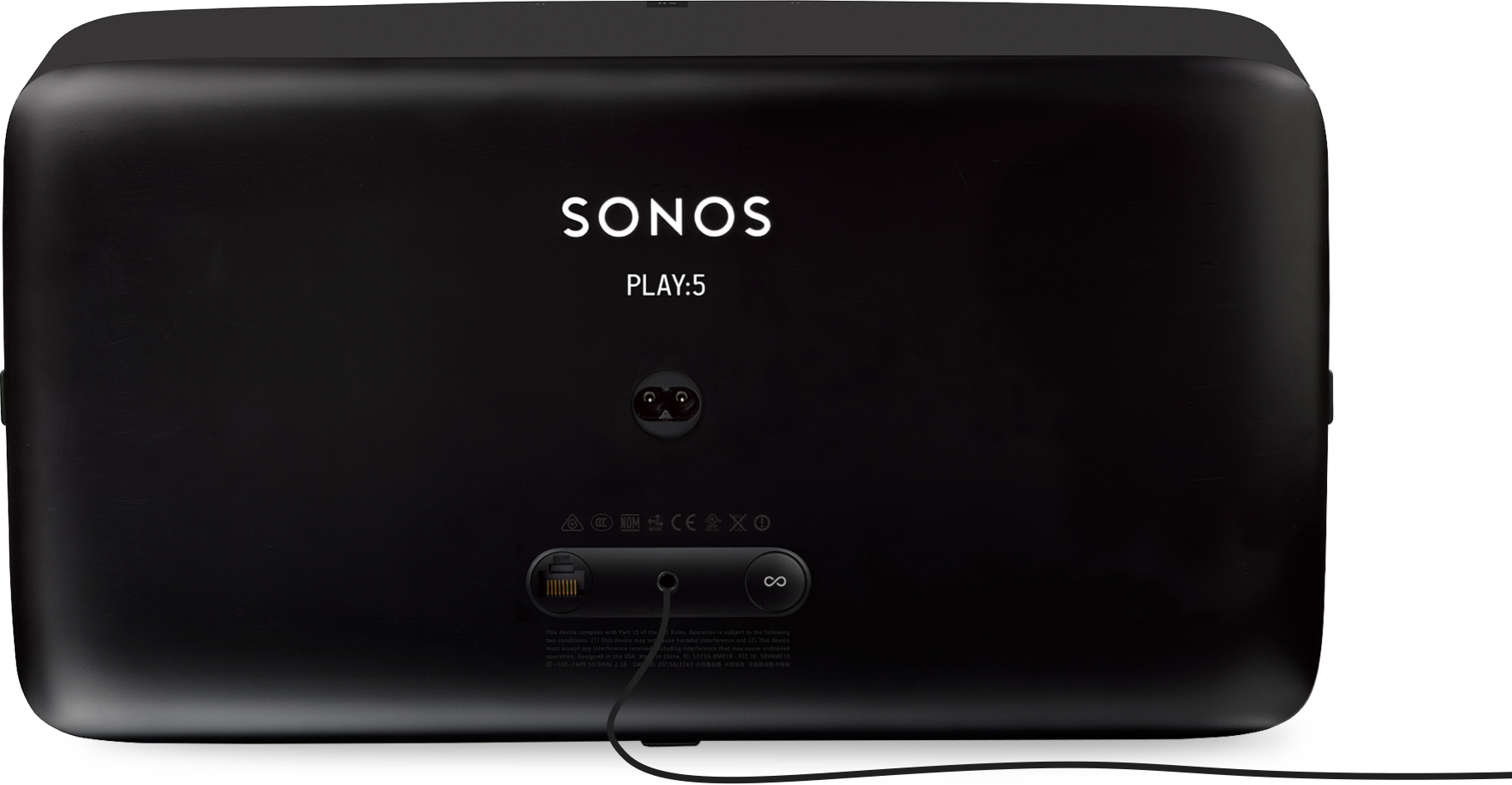 Six Class-D digital amplifiers perfectly tuned to match the six dedicated speaker drivers and the acoustic architecture.
Three tweeters create the crispest and clearest high-frequency response.
Three mid-woofers ensure you'll hear the faithful playback of mid-range vocal frequencies plus deep, rich bass—without distortion, even at high volumes.
Phased speaker array (three drivers on top and three on the bottom) creates a wide stereo soundstage that directs the sound left, right, and centre.
Audio line-in. An auto-detecting 3.5 mm connection.
Dimensions - H x W x D
8.03 x 14.33 x 6.06 in. (203 x 364 x 154 mm).
Weight
14 lbs. (6.36 kg).
Product finish
White or black matte enclosure with graphite grille.
Touch-interface controls & lights
Capacitive touch controls for volume up/down, previous/next track, and play/pause.
LED indicates Sonos component status and mute status.
Power supply
Auto-switching 100-240 V, 50-60 Hz AC universal input.
WiFi, not Bluetooth
Connects to your home WiFi network with any 802.11b/g, 2.4 GHz broadcast-capable router for uninterrupted wireless streaming.
Ethernet port
One 10/100 Mbps Ethernet port. Wire directly to your router to operate your Sonos if WiFi is unstable.
Apple AirPlay 2
Works with AirPlay 2 on Apple devices iOS 11.4 and higher.
Sonos Play:5, power cord, Ethernet cable, Sonos QuickStart Guide, and Legal/Warranty information.
What is a wireless speaker?
A wireless speaker connects to your WiFi network to stream audio content. Play:5 does not have a battery and therefore requires AC power.
How do I set up a Sonos speaker?
Download the Sonos app and create an account. Plug your speaker in and open the app. Make sure your device is connected to your home's WiFi network. The app will take you through setup step by step in only a few minutes.
Can I connect Play:5 to my TV?
No. The line-in isn't designed for use with a TV and will result in some latency or lip sync issues whilst the audio is converted from analogue to digital.
Can I adjust the bass level?
Yes. You can adjust the following equalisation (EQ) settings of each Sonos speaker from the Room Settings menu of the Sonos app: bass, treble, balance, and loudness.
Can I use a pair of Play:5 speakers as home cinema surrounds?
Yes. Play:5 will connect to Sonos home cinema speakers or home cinema systems connected to Sonos components.
Can I put Play:5 outside on my patio or in my garden?
Play:5 is not weather rated. It is not recommended that you leave Play:5 outdoors when it is not in use.
How can I use voice control with Play:5?
Play:5 can be controlled with either Alexa or the Google Assistant when connected to a voice-enabled device, such as Sonos One, Beam, Google Home, or an Amazon Echo Dot, over WiFi.
Can I hardwire Play:5 to my network router?
Yes. Play:5 has an ethernet port so you can connect it directly to your router if WiFi is unreliable.
Take a comprehensive look at the setup, function, and maintenance of Play:5. The product manual details all of its specifications and how to care for your Sonos speaker.
All your services in a single app
Sonos S2 is more than just an app. It's a platform that brings together all your streaming, voice, and control services so you can easily browse music, radio, podcasts, and audiobooks, and listen your way.