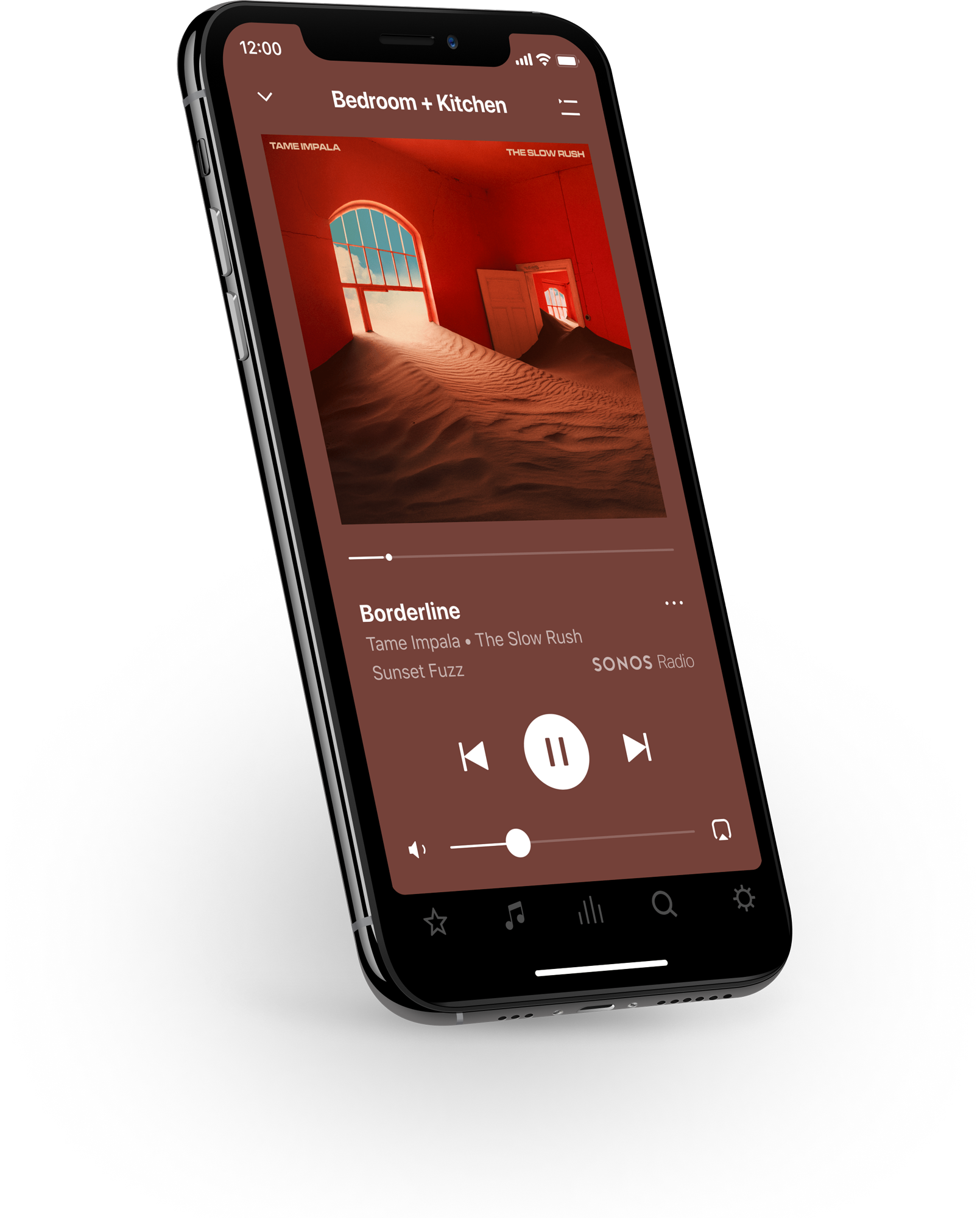 A new app to power your listening experience.
Take listening to the next level with Sonos S2. This new generation of the app features support for higher resolution audio, an improved design, increased security, and smarter software to keep your system up to date.
Brilliant sound, now even more brilliant
With upgraded audio processing, Sonos S2 supports higher resolution audio technologies for music and home theatre, including Dolby Atmos.
Improved design for easier use
The updated app makes it even simpler for you to search for content, control the sound, and personalise your listening experience with new features like saved room groups.
Increased security
Enhanced protocols, including support for elliptic curve cipher suites in SSL/TLS, keep your system safer and your data more secure.
All your services in a single app
Sonos S2 is more than just an app. It's a platform that brings together all your streaming, voice, and control services so you can easily browse music, radio, podcasts, and audiobooks, and listen your way.
Total control in the palm of your hand
Easily manage your system from any room. Adjust the volume, group speakers to play in sync, save favourites, set alarms, customise settings, and more.
Do I have to update to S2?
No. If you have products that are incompatible with S2 and would like to keep your system as is, you can. The app you are now using will be renamed the Sonos S1 Controller, and it will continue working with your existing products, music services, and voice services. When prompted to update in the app, simply confirm that you would like to continue with your current experience. If all of your products are compatible with S2, however, we recommend you update so you can enjoy the new software features.
If I continue using the S1 Controller app, what does that mean for my future experience?
You can continue listening with your system as you do today. Your system will receive bug fixes and security patches, but it will not receive any of the new software features found in S2. We will work with our partners to keep your music and voice services working with our oldest products for as long as we can, given their memory and processing power limitations. If we run into something core to the experience that can't be addressed, we will let you know.
Is Sonos ending support for older products?
No. You can still use older products with the S1 Controller.
Are any products incompatible with the S1 Controller app?
Products released after May 2020 will not be compatible with the S1 Controller app. This includes the new Arc, Five, and Sub (Gen 3). Product compatibility will be noted on sonos.com.
What if some products in my system are S2-compatible and some are not?
What are my options for upgrading to S2 compatible products?
If you have products that are eligible for the Sonos Upgrade Programme, you can choose to participate and save up to 30% on any new product.
Learn more.
How do I get the new app?
Download the new app to your phone or tablet from your app store. All of your settings and preferences will update automatically. You can delete the S1 Controller app from your device if you don't plan to use it.