The premium smart soundbar for TV, films, music, gaming, and more.
Bring all your entertainment to life with the brilliantly realistic sound of Arc, featuring Dolby Atmos. Enjoy control with your remote, the app, your voice, and Apple AirPlay 2.
Extraordinary sound meets elegant design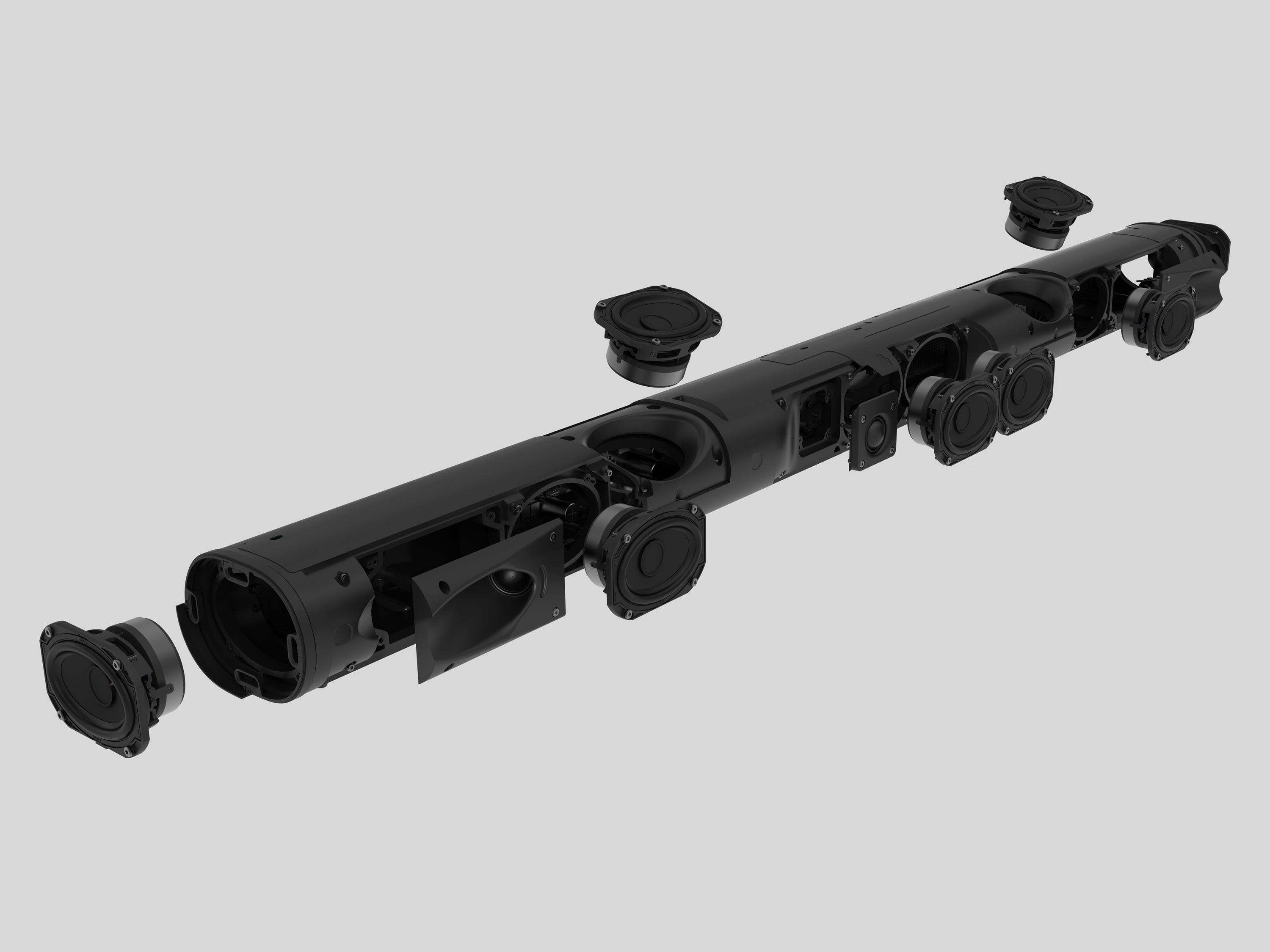 Featuring eleven high-performance drivers for crisp highs, dynamic midranges, and surprising bass, Arc's slim profile can be discreetly mounted or placed on furniture.
Immerse yourself in the music
Stream music, radio, podcasts, and more from your favourite services with the Sonos app or Apple AirPlay 2 when the TV is off.
Get crystal-clear dialogue
Arc was carefully tuned with the help of Oscar-winning sound engineers to emphasise the human voice so you never miss a word.
Turn on Speech Enhancement in the app to clarify dialogue when characters talk quietly or action intensifies.
Try it at home
Experience brilliant sound for yourself with free delivery. If for any reason you're not thrilled with your purchase, return it within 100 days. We'll even cover delivery charges.
Easily expand your system
Wirelessly connect Sub and a pair of matching rear surrounds for an even more immersive listening experience.
Arc
The premium smart soundbar for TV, films, music, gaming, and more.
Sub
The wireless subwoofer for deep bass.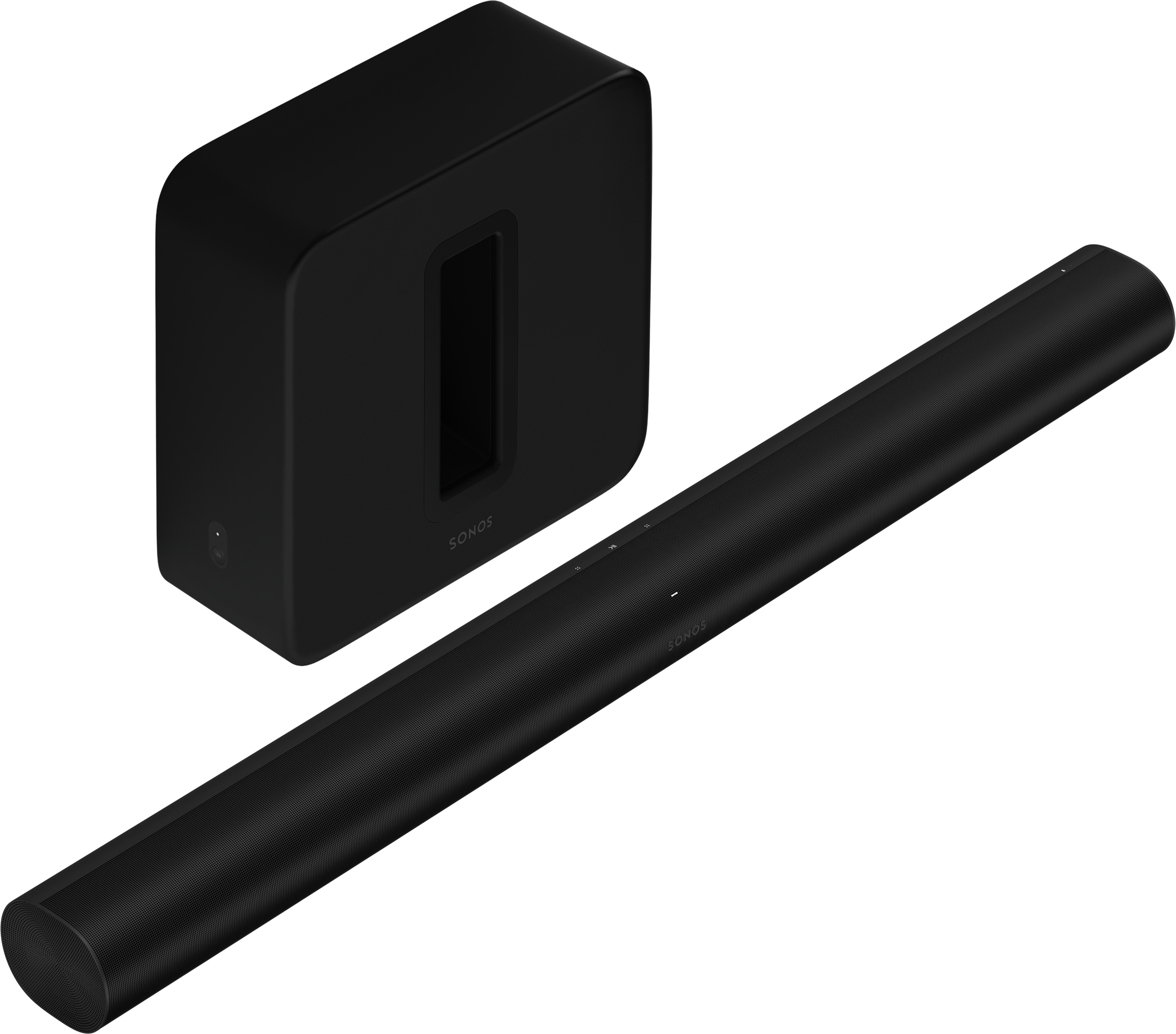 Arc
The premium smart soundbar for TV, films, music, gaming, and more.
Sub
The wireless subwoofer for deep bass.
One SL
The powerful microphone-free speaker for music and more.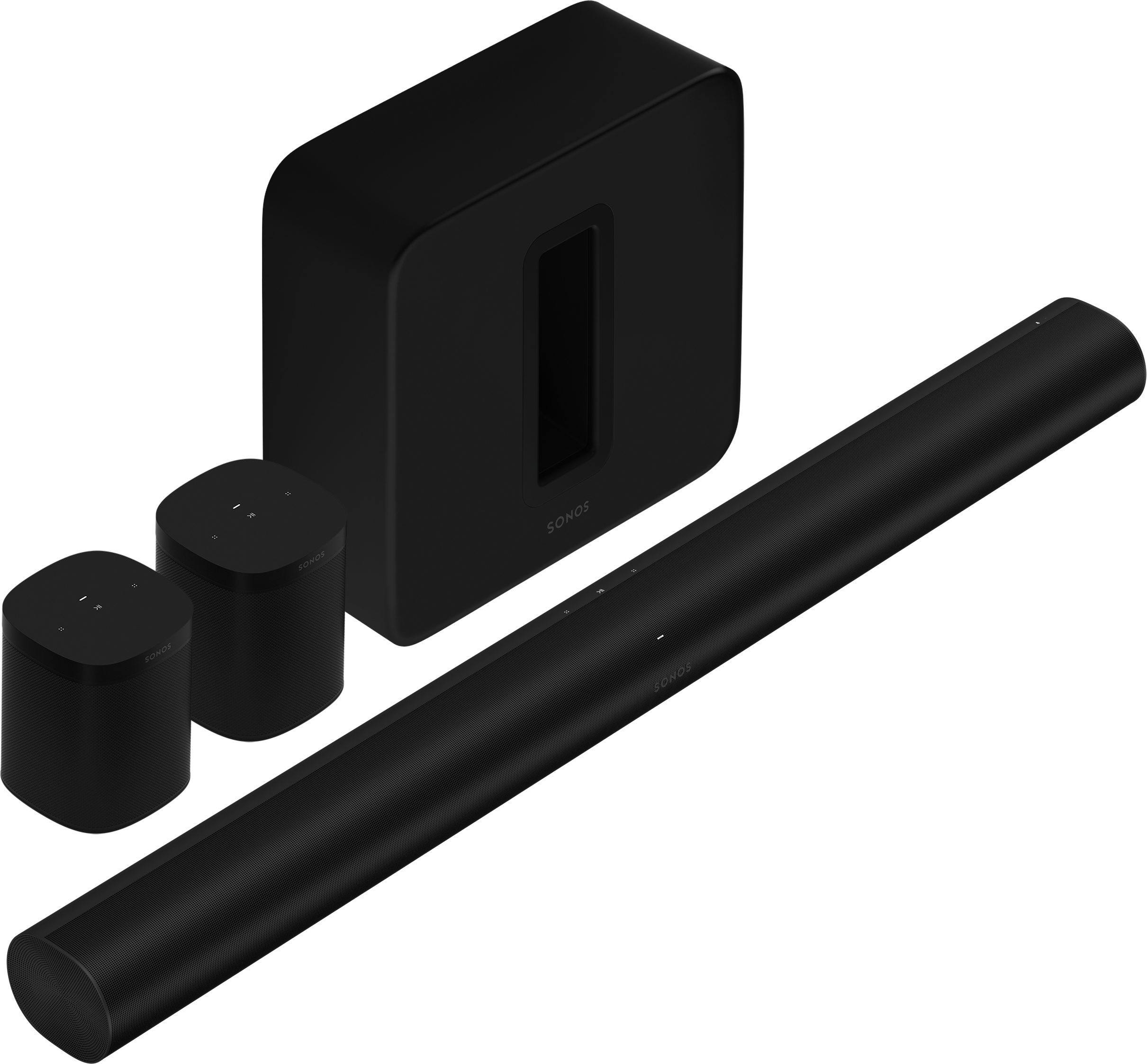 Introducing Sonos Radio
Enjoy thousands of stations, including live radio and exclusive programming, on your system through the Sonos app.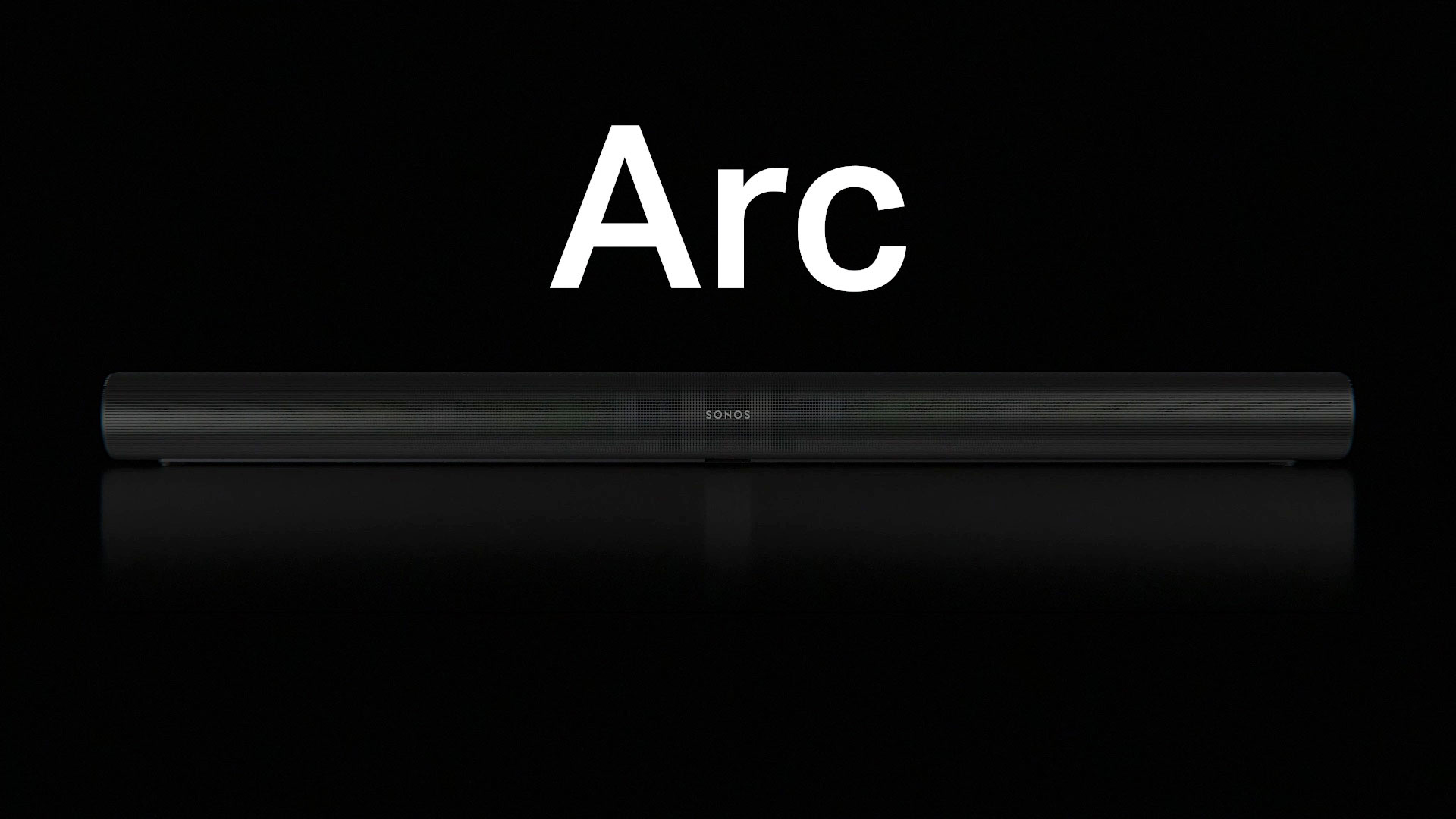 Eleven Class-D digital amplifiers perfectly tuned to Arc's acoustic architecture.
Eight elliptical woofers ensure faithful playback of mid-range and vocal frequencies in addition to rich bass.
Three precisely-angled silk-dome tweeters create crisp high frequencies and crystal-clear dialogue.
Far-field microphone array uses advanced beamforming and multi-channel echo cancellation so your voice assistant can be readily activated.
Trueplay™ software dynamically tunes the speaker to the unique acoustics of the room. iOS device required.
Adjustable EQ settings in the app, including bass, treble, and loudness.
Speech Enhancement emphasises the frequencies of the human voice to clarify dialogue.
Night Sound reduces the intensity of loud sound effects.
Dimensions - H x W x D
3.4 x 45 x 4.5 inches
(87 x 1141.7 x 115.7 mm)
Finish
Black with matte finish
White with matte finish
Status LED
Indicates the speaker and microphone status and adjusts based on the ambient light of the room to be visible but not distracting.
Capacitive Touch Controls
Tap to play, pause, adjust the volume, and mute the microphones. Swipe right to skip ahead or left to revisit a track.
Weight
13.78 lb (6.25 kg)
Power supply
Auto-switching 100-240 V, 50-60 Hz AC universal input.
HDMI ARC Port
Use the included HDMI Cable to connect to your TV's HDMI ARC/eARC input.
Optical Audio
Connect to your TV's optical audio output.
Ethernet Port
1 10/100 Mbps ethernet port. Wire directly to your router if WiFi is unreliable.
WiFi, not Bluetooth
Connects to your home WiFi network with any 2.4GHz 802.11 b/g/n broadcast-capable router for uninterrupted wireless streaming. 5GHz is not supported—you can either enable 2.4GHz 802.11b/g/n in router settings or connect a Sonos product to your router.
Sonos S2
Download the latest generation of the app to set up and control.
Apple AirPlay 2
Works with AirPlay 2 on Apple devices iOS 11.4 and higher.
Infrared (IR) receiver
Syncs with your TV remote for streamlined control
CPU
Quad Core
1.4 GHz A-53
Arc is not compatible with CCFL-backlit TVs (manufactured 2004-2012).
Arc, Power Cable, HDMI Cable, Optical Audio Adapter, Quickstart Guide, and Legal Booklet
Free delivery
Enjoy free 2-day delivery anywhere within Ireland.
Easy returns
Not exactly what you wanted? Return it within 100 days. We'll cover delivery costs.
Professional installation
Do I have to plug Arc in?
Yes. Sonos Arc must be connected to a power source. It will also need to be connected to your TV to receive the TV audio signal.
Can I use the Sonos S1 Controller with Arc?
Arc is only compatible with Sonos S2. Learn more about this new app and operating system
here
.
Can I mount Arc to the wall?
Yes. The Sonos Wall Mount for Arc is recommended for the best listening experience.
You can find it here.
What is Dolby Atmos?
Dolby Atmos is an object-based format for surround sound that designates different sounds to specific places in the room rather than channels, creating a more realistic experience by dynamically incorporating height, surround, and front channels.
How does Dolby Atmos work with Arc?
Arc supports increased bandwidth for the higher quality audio of Dolby Atmos. It also includes upwards-firing speaker drivers that act as height channels, reflecting sound off your ceiling for additional dimension.
How do I know I'm getting Atmos sound?
Getting Atmos sound is dependent on the source material, as well as the TV passing an Atmos signal through the HDMI port. If Arc is receiving an Atmos signal, we will display that within the Sonos App on the "Now Playing" screen as well as within the settings portion of our app.
Do I still need surrounds and Sub with Atmos?
No; adding surrounds and Sub will provide the best sound experience Sonos has to offer, but you can get an Atmos experience with just Sonos Arc.
Which Sonos speakers work as surrounds?
A matching pair of the following speakers will work as surrounds: Sonos One (including SL), Sonos Five, Play:1, Play:3, and Play:5 (Gen 2). You can also use Amp to power in-wall or in-ceiling speakers as surrounds.
Which generations of Sub will work with Arc?
All generations of Sub will work with Arc.
Can I use Bluetooth?
Arc streams audio over your WiFi network and does not support Bluetooth.
How is Arc different from Playbar, Playbase, and Beam?
Arc supports Dolby Atmos, which other products do not, and increases chances of receiving a Dolby Digital 5.1 signal.
Can I control my TV with my voice?
If your TV supports CEC (TVs with HDMI will support CEC) and you have set up a voice assistant, you will be able to control the TV with your voice.
How do I connect Arc to my TV?
Connect Arc to your TV's ARC/eARC port using the included HDMI cable or your own. If your TV does not have HDMI, Arc comes with the Sonos Optical Audio Adapter.
What is HDMI eARC?
eARC stands for enhanced Audio Return Channel. It allows full-resolution sound signals, including Dolby Atmos, to be passed from your TV to the soundbar.
Do I need a TV that supports HDMI eARC?
Sonos Arc can connect to TVs with eARC, ARC, or optical outputs. For greatest compatibility, eARC is recommended.
If you connect to a TV with eARC, the Dolby audio formats supported include Dolby Atmos, TrueHD, MAT, Dolby Digital Plus, and Dolby Digital.
If you connect to a TV using ARC, the Dolby audio formats supported are dependent on your TV model and manufacturer. The TV may be capable of sending Dolby Atmos, Dolby Digital Plus, and Dolby Digital. An ARC connection cannot support TrueHD or MAT.
If you connect to a TV using the optical adapter, the Dolby audio formats supported are dependent on your TV model and manufacturer. The TV may be capable of sending Dolby Digital. An optical connection cannot support Dolby Atmos, TrueHD, MAT, or Dolby Digital Plus.
Take a comprehensive look at the setup, function, and maintenance of Arc. The user guide details all of its specifications and how to care for your Sonos speaker.
All your services in a single app
Sonos S2 is more than just an app. It's a platform that brings together all your streaming, voice, and control services so you can easily browse music, radio, podcasts, and audiobooks, and listen your way.