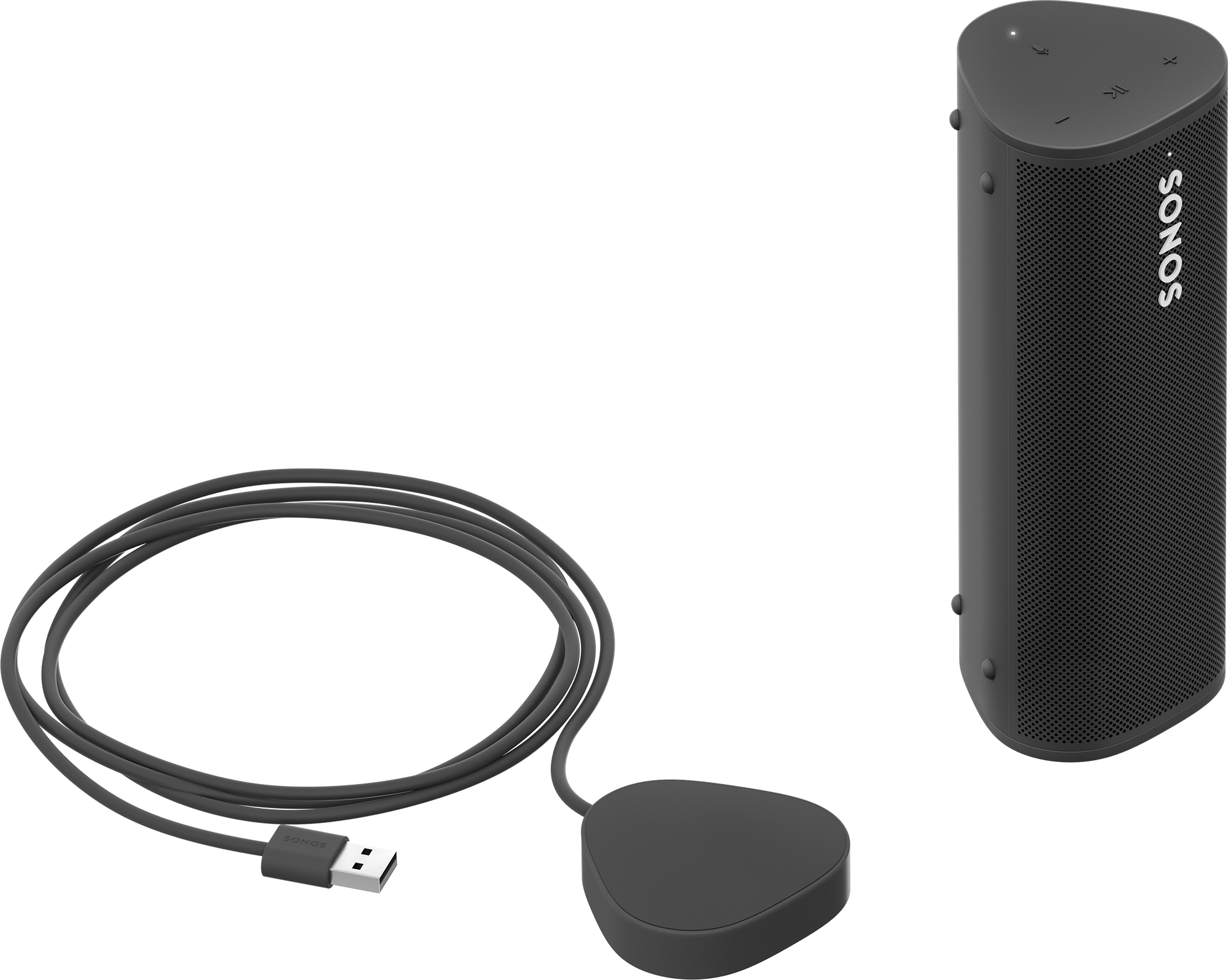 Take incredible sound everywhere. Enjoy music, voice control, and multiroom listening at home on WiFi, plus Bluetooth® streaming, all-day battery life, and waterproof durability on the go. Effortlessly charge with the custom-designed wireless charger.
Includes: Roam, Wireless Charger, Power Adapter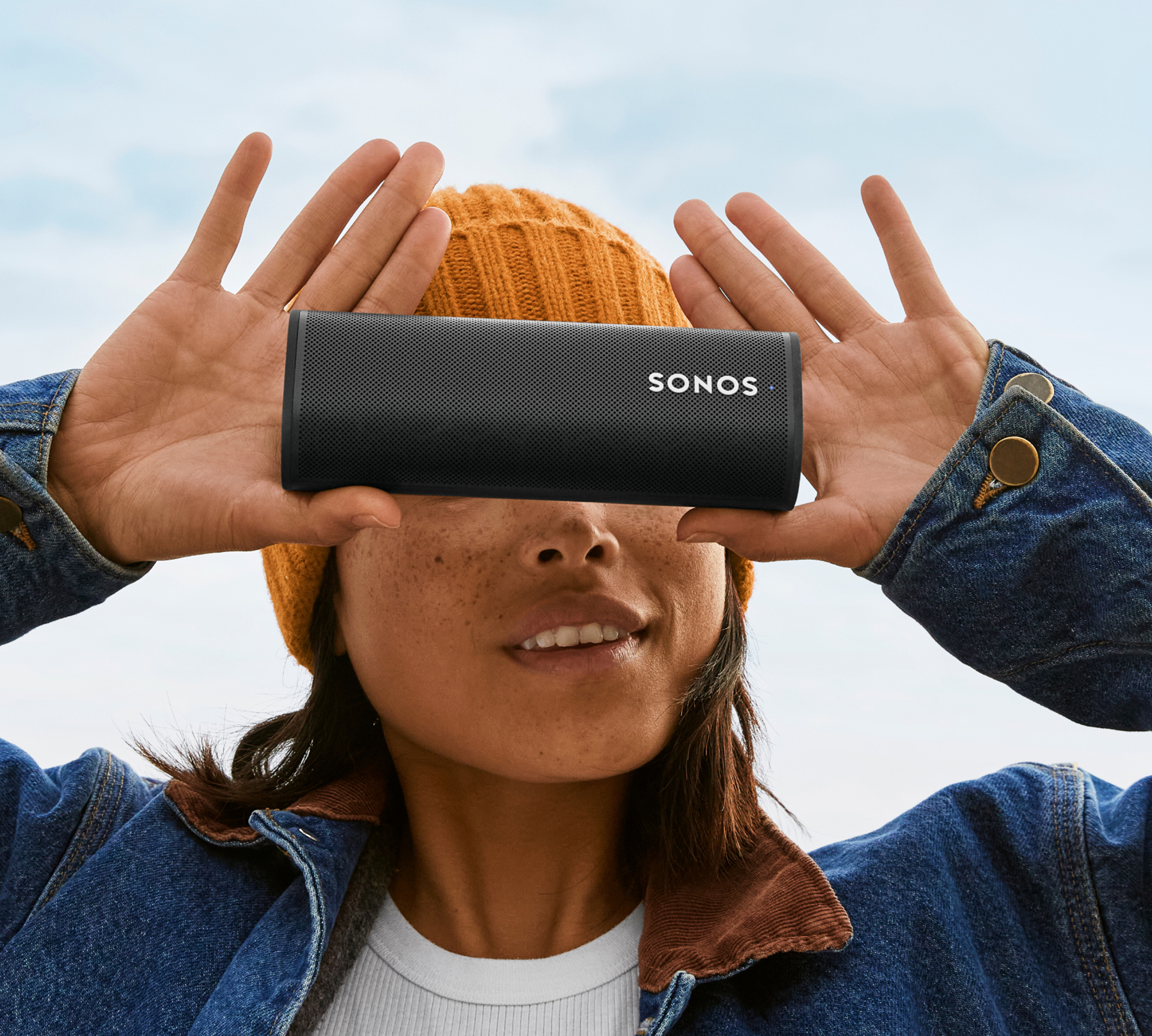 At a glance
Up to 10 hours of play time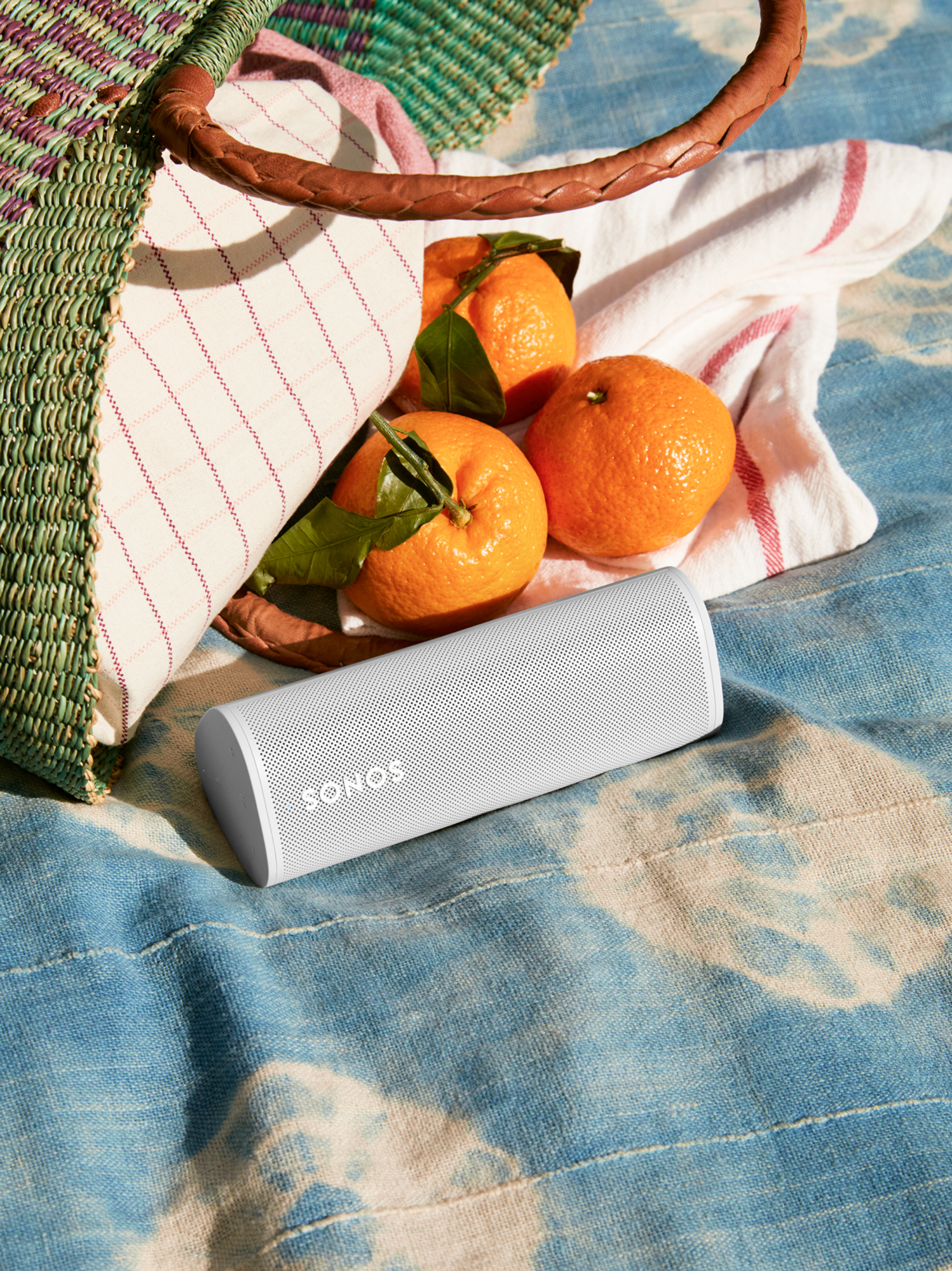 A seamless listening experience, everywhere
Enjoy the unmatched Sonos experience on Wifi, and stream directly from your smartphone, tablet, or computer using Bluetooth.
Roam automatically connects to your home network and pairs with your phone when you're away. So all you have to think about is what to play.
WiFi and Bluetooth features
| | WiFi | Bluetooth |
| --- | --- | --- |
| Stream music and more | | |
| Automatic Trueplay™ tuning* | | |
| No interruptions from calls | | |
| Apple AirPlay 2 | | |
| Voice control with Amazon Alexa or Google Assistant | | |
| Play local, global, and originally curated stations from Sonos Radio | | |
| Create a stereo pair with two matching Sonos speakers for more detailed sound | | |
| Group Sonos speakers in your system to listen all around your home | | |
| *Microphones must be on | | |
Makes charging a snap
Simply hold your speaker near the charging pad and the magnets will quickly attach for fast wireless charging.
2 Class-H digital amplifiers perfectly tuned to the drivers and speaker's unique acoustic architecture.
One tweeter creates a crisp high-frequency response.
One mid-woofer ensures faithful playback of mid-range frequencies and maximises low-end output.
Far-field microphone array uses advanced beamforming, and multi-channel echo cancellation enables quick voice assistant activation and automatic Trueplay™ tuning.
Use the Sonos app to adjust bass, treble, and loudness.
IP rating
IP67 waterproof and dustproof (Can be submerged in three feet of water for up to 30 minutes.)
Dimensions - H x W x D
6.61 x 2.44 x 2.36 inches
(168 x 62 x 60 mm)
Colours
Shadow Black, Lunar White
Buttons
Play/Pause:
Press the play/pause button once to play, pause, or wake from sleep.

Skip/Replay:
Press the play/pause button twice to skip a track and three times to replay the previous track.

Volume:
Press the + button to increase the volume. Hold to ramp up volume. Press the – button to decrease the volume. Hold to ramp down the volume.

Microphone:
Press the microphone button to turn the microphones on and off. Press and hold to activate your voice assistant with push-to-talk whilst connected to WiFi.

Power:
Press the power button to sleep or power on. Press and hold for one second to connect to Bluetooth. Press and hold for five seconds to power off.
Status LEDs
LED above the logo displays the speaker's connection, indicates when the volume is muted, and signals errors. LED on the top cap indicates when the microphones are active. LED towards the bottom of the product indicates power and charge status.
Privacy
The microphone status LED is hardwired so you always know when the microphones are active.
Battery
18Wh battery provides up to 10 hours of continuous playback on a single charge.
Charging
Charge with the included USB-C cable and a 5V/1.5A (7.5W) or higher USB power adaptor, a Qi-certified wireless charger, or the custom-designed Sonos Wireless Charger (sold separately).
Learn more
WiFi
Connects to WiFi network with any 802.11a/b/g/n/ac 2.4 or 5 GHz broadcast-capable router.
Bluetooth
Bluetooth 5.0 supports audio streaming from your Bluetooth-enabled smartphone, tablet, computer, or other device.
Apple AirPlay 2
Works with AirPlay 2 on Apple devices iOS 11.4 and higher.
Voice
Works with Amazon Alexa and Google Assistant.
Operating Temperature
41°F to 95°F (5°C to 35°C)
CPU
Quad Core
1.4 GHz A-53
IP Rating
IP54 (Charger is resistant to dust and liquid splashes.)
Dimensions
0.57 H x 2.44 W x 2.35 D inches
(15 x 62 x 60 mm)
Cable Length
Extends to 1.2 m
Colours
Shadow Black, White
Operating Temperature
32°F to 104°F
(0°C to 40°C)
Power Supply Input
5 VDC, 2.1A (10.2 W)
Charging Time
0% to 50% in 2 hours
Sonos Roam, USB-C to USB-A cable (3.9 ft/1.2 m), Quickstart Guide, and Legal Booklet
Included Accessories
10W USB Power Adapter
Simple financing
Contact our Sales team via 1800 476 667 to request payment via Zip Pay.
Free delivery
Enjoy free express delivery within Australia.
Easy returns
Not exactly what you wanted? Return it within 100 days. We'll cover delivery costs.
Professional installation
How is Roam different from Move?
Roam is smaller in both size and weight for increased portability, whilst Move's larger size enables deeper, richer sound. Roam is also waterproof and can be submerged up to 1 m (3.2 feet) for 30 minutes, whereas Move is designed to withstand moderate rain and splashes.
What's the difference between Bluetooth and WiFi?
Bluetooth pairs or connects devices using short-range radio waves. WiFi similarly pairs or connects devices, but it also connects to the internet, typically through a wireless router. Internet access allows you to stream higher-fidelity audio over greater distances, group or stereo pair Sonos speakers, play content from
Sonos Radio
, use features such as
Sound Swap
, and more.
Will Roam work with my voice assistant?
Will Roam work with Bluetooth out of the box?
Like all Sonos speakers, Roam must be set up with the Sonos app whilst on WiFi before you can connect a device directly via Bluetooth.
Why doesn't voice control work on Bluetooth?
Voice assistants require a WiFi connection to access the internet in order to look up information and communicate with other internet-enabled devices.
What is the battery life of Roam?
Roam offers up to 10 hours of continuous playback on a single charge. When not in use, Roam switches to sleep mode to conserve power, and the battery can last up to 10 days.
Can I create a stereo pair with two Roams?
Yes. When you are on WiFi, you can use the Sonos app to create a stereo pair with two matching speakers and enjoy stereo separation and a wider soundstage for listening to music and other audio. A Roam stereo pair will not work as surround speakers in your Sonos home cinema system.
Can I use a Roam stereo pair as home theatre surrounds?
No. Roam is designed for portability and does not pair with Sub. You can of course group it to play in sync with other products in your system, including your home theatre setup.