The durable, battery-powered smart speaker for outdoor and indoor listening.
Get brilliant sound anywhere with the weatherproof and drop-resistant Move. Control with your voice, the Sonos app, and Apple AirPlay 2 at home, and stream via Bluetooth® when WiFi isn't available.
Finely tuned to your surroundings
Enjoy surprisingly rich bass, a wide soundstage, and automatic Trueplay™ tuning, which continually adapts the sound for where you are and what you're listening to.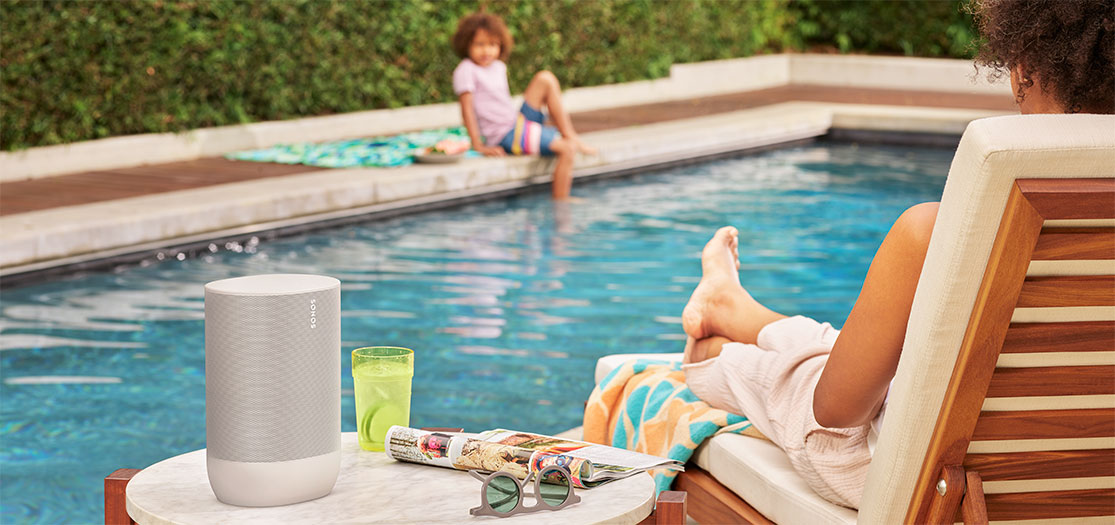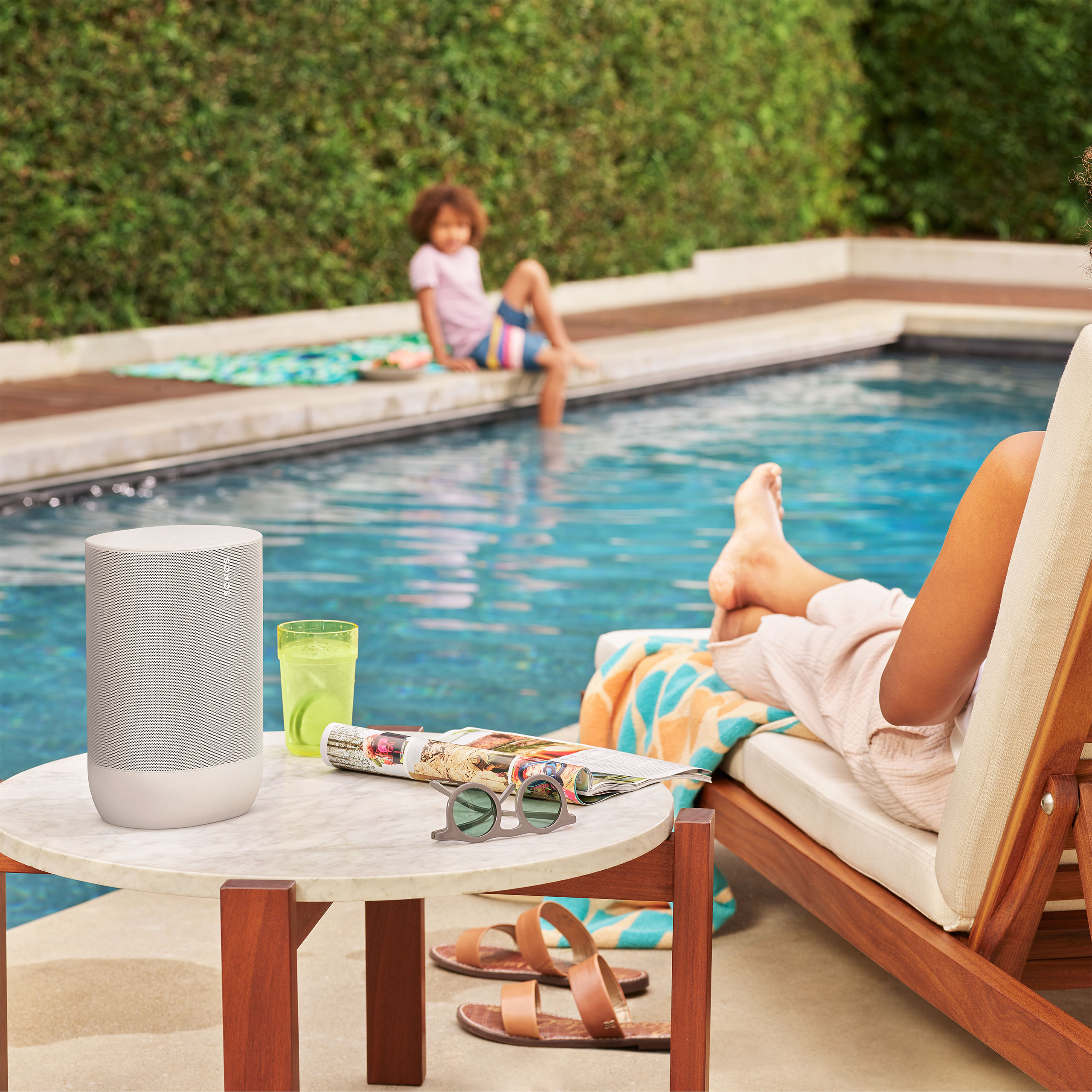 WiFi and Bluetooth
Stream over WiFi and connect Move to the rest of your Sonos system at home. Switch to Bluetooth when you're offline.
Ultra-durable
Don't worry about accidental drops or bumps. Move's components are protected by a hardwearing, shock-resistant case.
Grab and go
Move fits seamlessly into the included charging base and features an ergonomic handle, making it easy to pick up and carry.
Battery that lasts
Enjoy up to 11 hours of continuous play time and rich sound. Easily recharge Move on the included base, or get power on the go with a compatible USB-C charger.
Weather-resistant
With an IP56 rating, Move stands up to humidity, rain, snow, dust, salt spray, UV rays, and extreme heat and cold.
Simple recharging
Get up to 11 hours of battery life. Set the speaker on the included indoor charging base for quick power whilst you listen, and get power wherever you need it with an additional charging base.
Sonos Move Charging Base
Get power where you need it with an additional or replacement indoor charging base.
Introducing Sonos Radio
Enjoy thousands of stations, including live radio and exclusive programming, on your system through the Sonos app.
Two Class-D digital amplifiers perfectly tuned to match the speaker drivers and acoustic architecture.
Responsive audio chime lets you know Sonos Move has heard you and is working on a response.
Far-field microphone array uses advanced beamforming and multi-channel echo cancellation so your voice assistant can be readily activated.
One downward-firing tweeter creates a crisp, clear high-frequency response that disperses evenly for an ultra-wide soundstage.
One mid-woofer integrated into the cabinet ensures faithful playback of mid-range vocal frequencies plus deep, rich bass.
IP rating
Rated IP56 for protection from dust particles and liquid splashes.
Dimensions - H x W x D
9.44 x 6.29 x 4.96 in. (240 x 160 x 126 mm)
Product Finish
Shadow Black or Lunar White with matte finish
Top-panel features
Capacitive touch controls for volume up/down, previous/next track, play/pause, microphone mute. LED indicates status, mute status, and voice feedback.
Complete privacy
An illuminated LED indicator light ensures you're always aware when the speaker's microphone is active.
Weight
6.61 lb (3 kg) including battery
Power supply
USB-C adapters must support one or more of the following output levels: 12V/3A, 15V/3A, 20V/2.25A.
Charging base power supply
Input: 100-240V, 50-60 Hz, 1.2A; Output: 18VDC, 2.5A
WiFi
Supports 802.11 a/b/g/n, 2.4 GHz, and 5GHz.
Bluetooth
Stream music and more with Bluetooth when you're away from home using your phone or another capable device.
Apple AirPlay 2
Works with AirPlay 2 on Apple devices iOS 11.4 and higher.
Battery
36WH
Up to 11 hours per charge
Playback from -10°C to 55°C.
Charging from 0°C to 45°C.
Sonos Move, Indoor Charging Base, Quickstart Guide, and Legal Booklet
Simple financing
Contact our Sales team via 1800 476 667 to request payment via Zip Pay.
Free delivery
Enjoy free express delivery within Australia.
Easy returns
Not exactly what you wanted? Return it within 100 days. We'll cover delivery costs.
Professional installation
How do I use Bluetooth?
Once you have set up Move on your WiFi network, press the Bluetooth/WiFi mode button on the back of the speaker to switch to Bluetooth mode. The LED on top of the speaker will illuminate blue. To pair, select Move from the list of available devices on your phone. If it does not appear, press and hold the button.
What does the Sonos app do on Bluetooth?
The Sonos app will control your system on WiFi but not Bluetooth. To listen on Bluetooth, use a streaming service app, such as Spotify.
Does voice control work on Bluetooth?
No. You must be connected to WiFi for the Google Assistant and Amazon Alexa to work on Sonos.
Can I stereo pair Move?
Yes. You can pair two Moves on WiFi for stereo sound.
Can Move stereo pair or group while in Bluetooth?
No. Move will only stereo pair or group with your Sonos system when connected to WiFi.
Can I use two Moves as home cinema surrounds?
Does Move pair with Sub?
No. Because Move is designed to move around your home, pairing with Sub would result in mid and high frequencies in one room and bass in another for imbalanced sound and an inferior listening experience. You can, however, group Move with a system that includes Sub, such as a 5.1 home cinema setup.
What does the IP56 rating mean?
An IP rating is an international standard that defines how effectively electrical enclosures resist intrusion from foreign elements, such as dust and liquids. The numbers that follow "IP" have specific meanings. The first ranges from 1-7 and defines the degree of protection from foreign elements, such as dust. The second ranges from 1-9 and defines the degree of protection from various forms of liquids, including sprays, drips, and submersion.
Move is rated IP56, meaning it is protected from very fine particles, such as dust, and heavy liquid splashing, including heavy rain and snowfall.
Is the charging base weather-resistant?
No. The speaker itself was designed for outdoor use and is therefore resistant to water, dust, and other elements. The charging base, however, should only be used indoors.
Is the charging base weatherproof?
No. The charging base is designed to be used indoors. A compatible USB-C charger is recommended for outdoor use.
Can I take Move to the beach?
How long does the battery last?
Move's battery will last for up to 11 hours of uninterrupted playback. Pausing, volume level, Bluetooth, heat exposure, and other factors will cause battery life to fluctuate. If left off the charging base and unused, the battery will last about 120 hours.
What's the lifespan of Move's lithium-ion battery?
The battery should last about three years or 900 charges, after which you can purchase a replacement battery.
Does Move meet TSA/CAA hand luggage regulations for lithium-ion batteries?
Yes. You can pack Move in your hand luggage whilst flying.
How does auto Trueplay work?
Move's microphones detect what you're playing and measure the frequency response from your surroundings. Using software, the speaker then adjusts its EQ for perfectly balanced sound.
Will auto Trueplay work if the microphones are off?
No. The microphones must be on for auto Trueplay to work.
How often does auto Trueplay adjust the sound?
Auto Trueplay is triggered whenever Move is placed in a new location, and it continuously refines the sound whilst Move is stationary.
Does automatic Trueplay work when Move is on Bluetooth?
Automatic Trueplay currently only works on WiFi.
Do the microphones hear commands when audio is playing?
Yes. On WiFi the far-field microphones in the speaker detect your voice from any direction. You can speak at a natural volume to activate supported voice commands.
Can I turn the microphones off?
Yes. Simply touch the microphone icon and the light will turn off, indicating that the microphones are inactive. The light is hardwired so you know that the microphones are only active when it is illuminated.
Does Move come with a charging base?
Yes, Move includes an indoor charging base for quick power whilst you listen. You do not need to purchase a standalone charging base.
Do I need an additional charging base?
No, Move does not require that you purchase an additional charging base. However, you can purchase an additional charging base for quick power wherever you need it in your home.
Take a comprehensive look at the setup, function, and maintenance of Move. The user guide details all of its specifications and how to care for your Sonos speaker.