Enrich all your entertainment with the latest generation of our compact smart soundbar, now with Dolby Atmos.
Experience panoramic sound and crystal clear dialogue for shows, movies, and games. And when the TV is off, stream music and more from all your favorite services. Control is easy with the Sonos app, your voice, and Apple AirPlay 2. Add speakers to create a wireless surround sound system and enjoy multiroom listening. Everything connects over WiFi.
Smarter on the inside
A 40% faster chip pushes the sonic limits for a soundbar this size, creating two new audio paths for a virtual surround sound experience.
More beautiful on the outside
The new precisely perforated grille elevates the elegant design and blends seamlessly into your home, whether you place Beam on furniture or mount it.
Exceptional sound all around
Dolby Atmos maps sounds in space for a 3D effect so you experience planes as if they're flying overhead, hear footsteps moving across the room, and feel the score surround you.
Requires a TV that supports Dolby Atmos and Atmos-encoded content.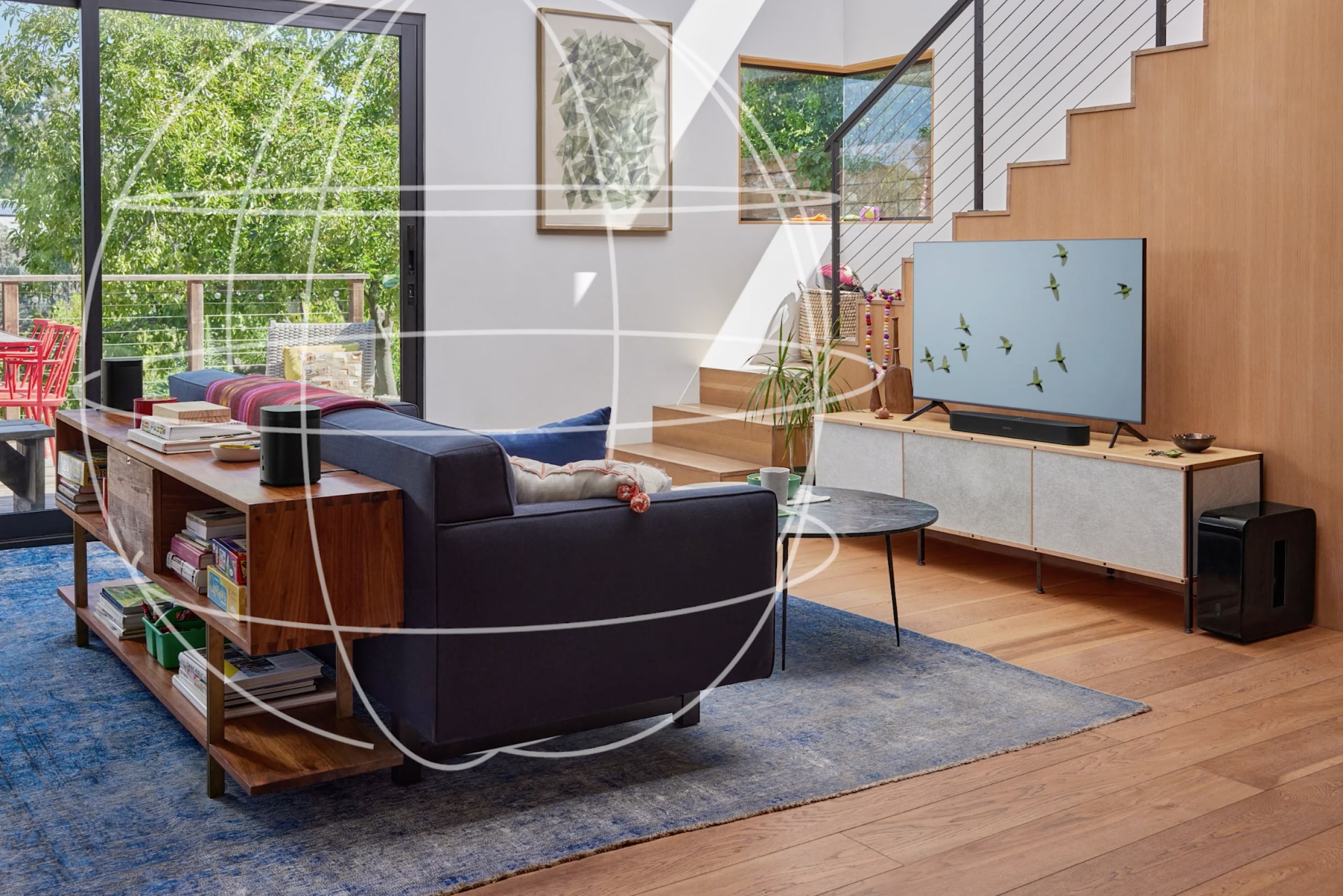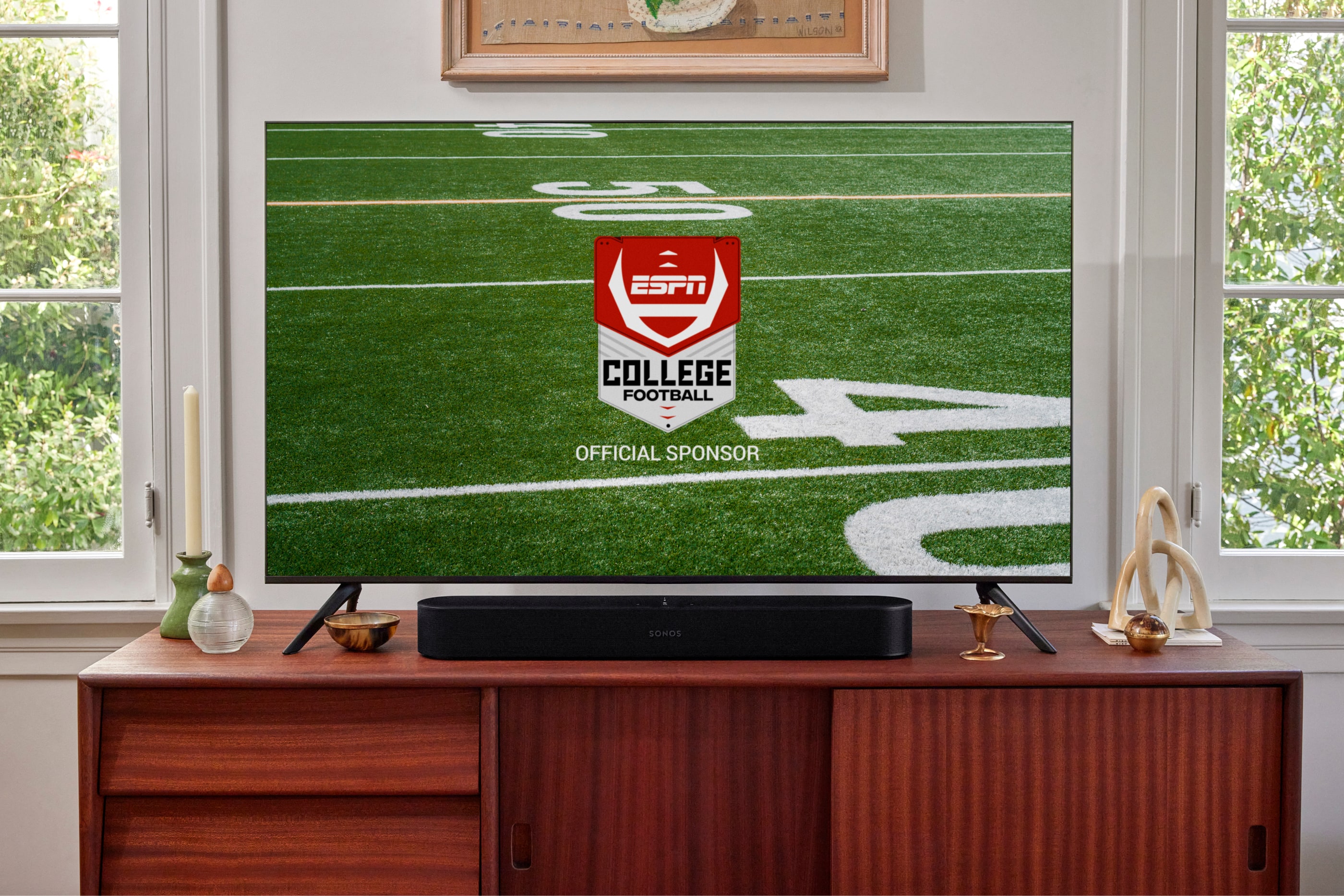 Crystal clear dialogue
Oscar-winning sound engineers helped fine-tune Beam to make sure you hear every word and can always follow the story. For even greater clarity when characters whisper or the action intensifies, turn on Speech Enhancement in the Sonos app.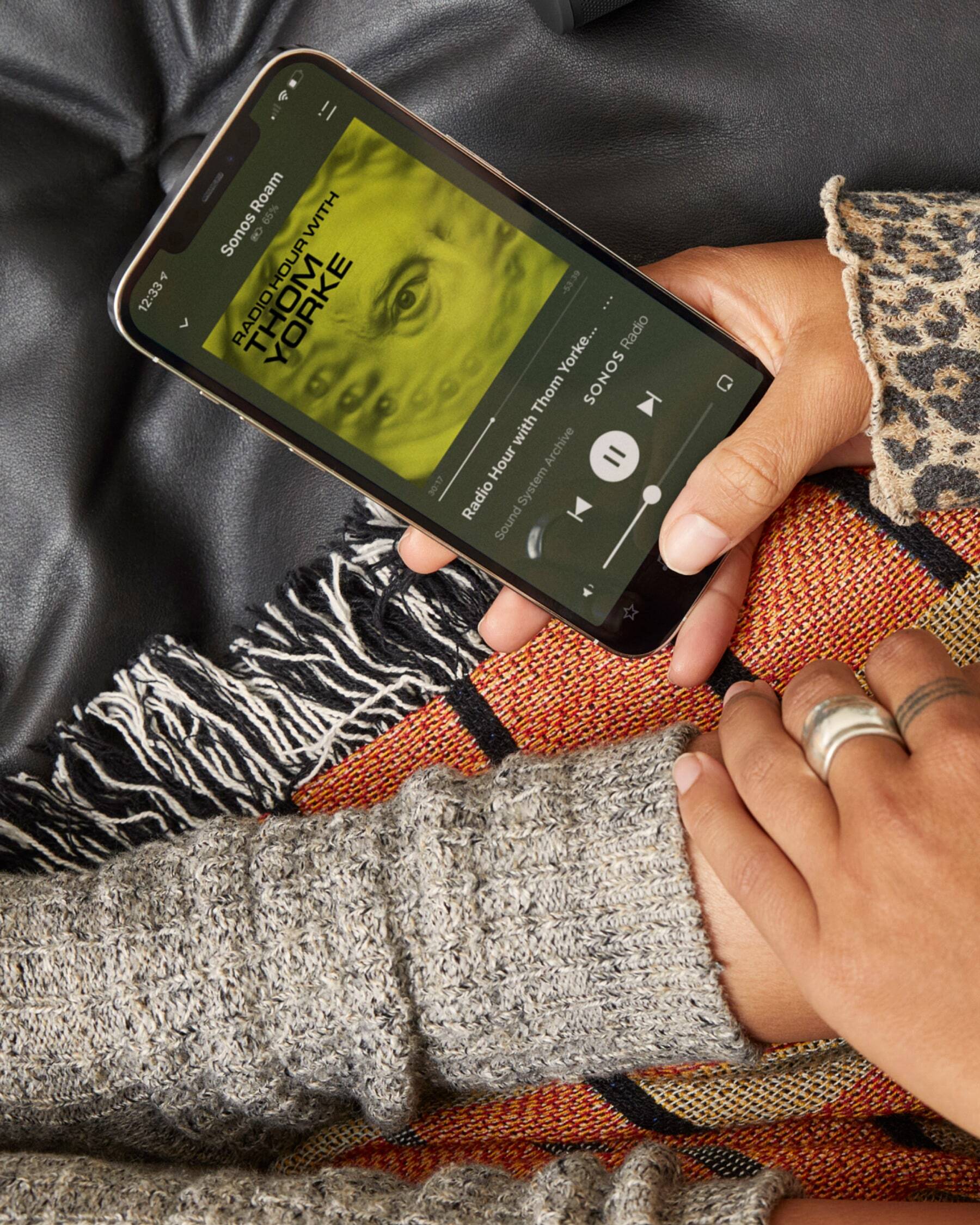 Made for music
Stream music, radio, audiobooks and podcasts from all your favorite services with detailed stereo sound that fills the room.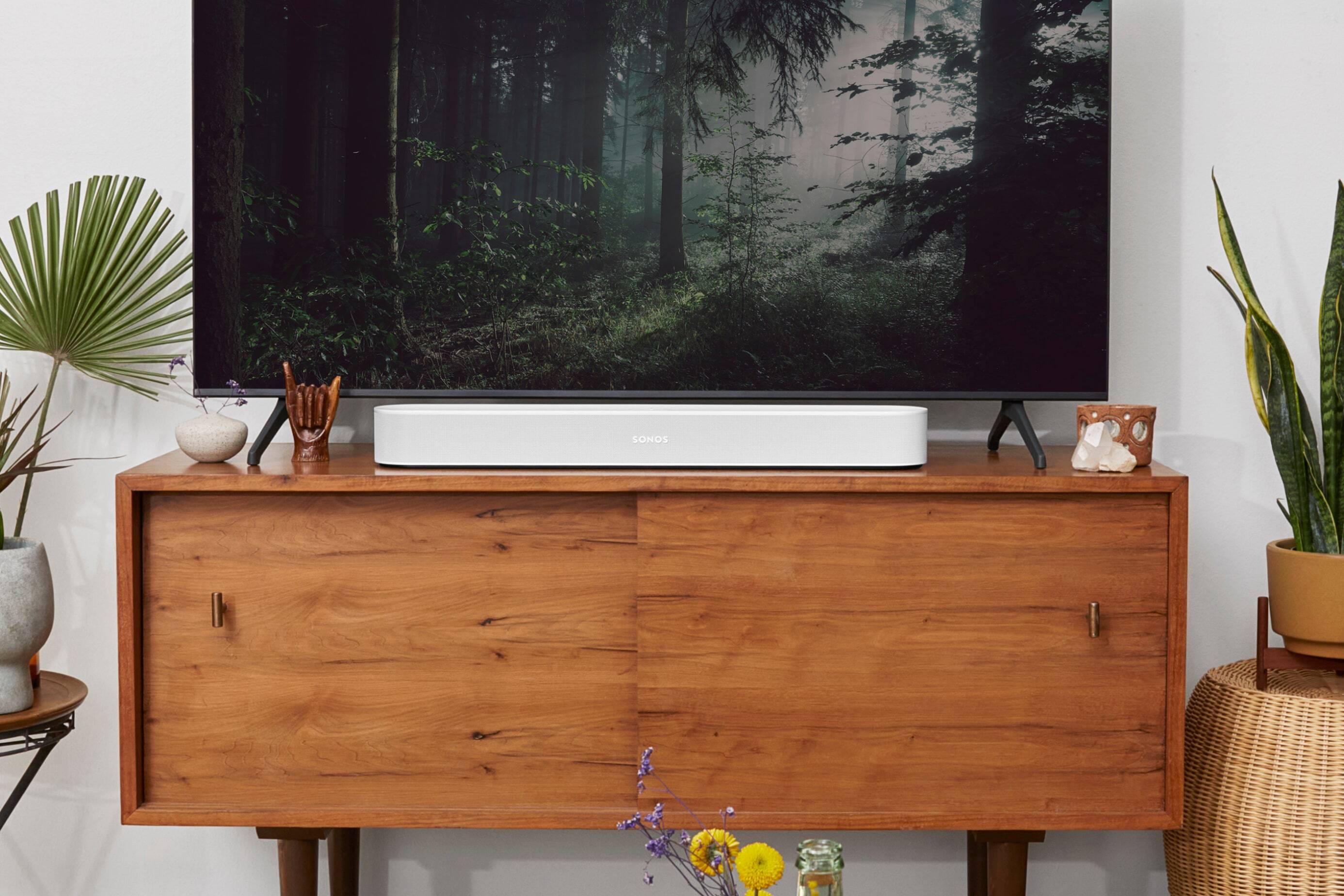 Breeze through setup
Go from unboxing to unbelievable sound in minutes with only two cables and step-by-step guidance from the Sonos app.
Tuned to perfection
Trueplay tuning technology adapts the sound for the unique acoustics of the room so your content always sounds just the way it should.
Requires an iOS device.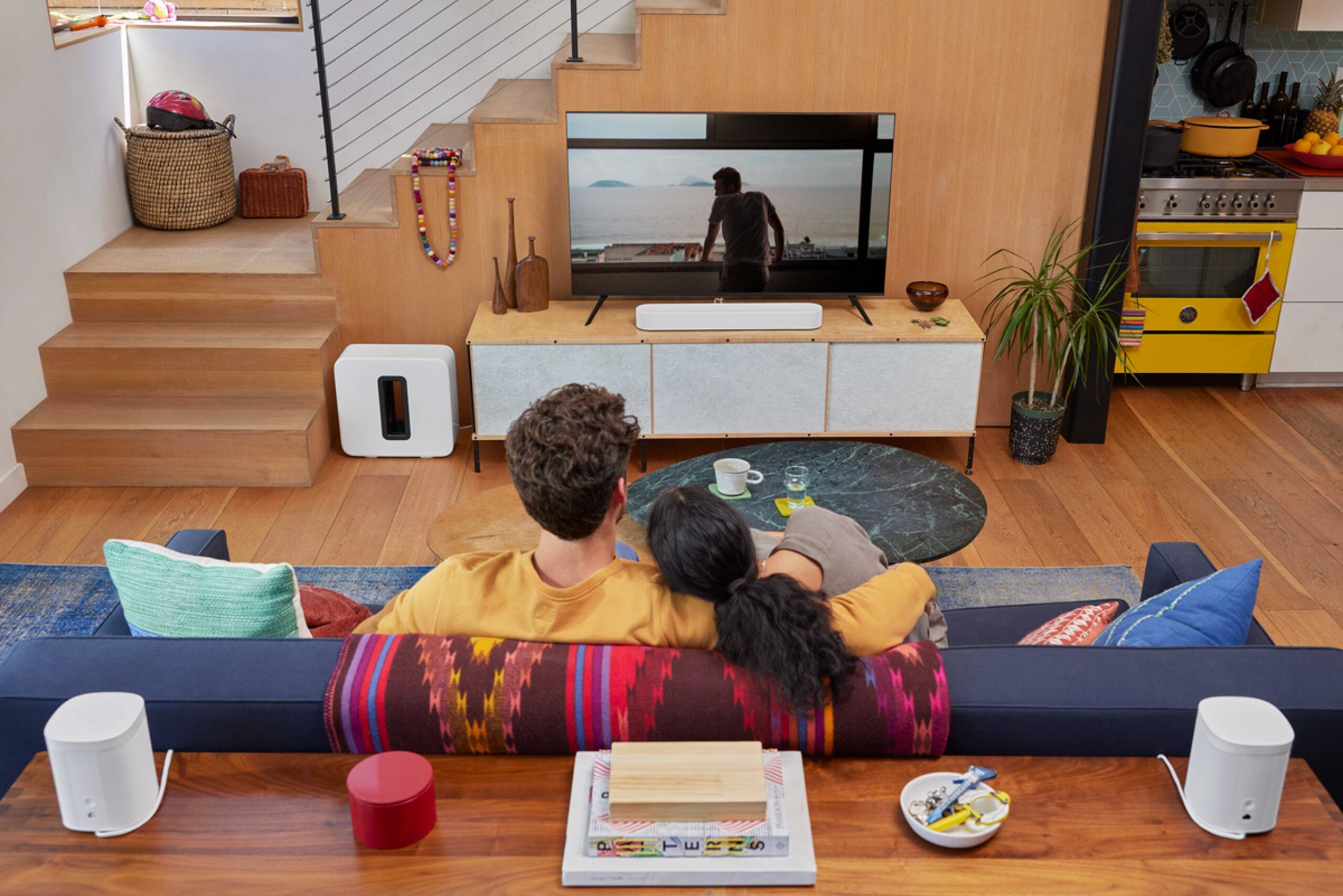 Freedom of control
Connect all your streaming services, discover new music on Sonos Radio, and personalize settings.
The soundbar syncs with your existing remote for streamlined control and no extra clutter.
Tap or swipe the top of the soundbar to pause the music, adjust the volume, skip a track, and more.
Send sound directly from your iPhone, iPad, or Mac, then ask Siri to turn it up from your device.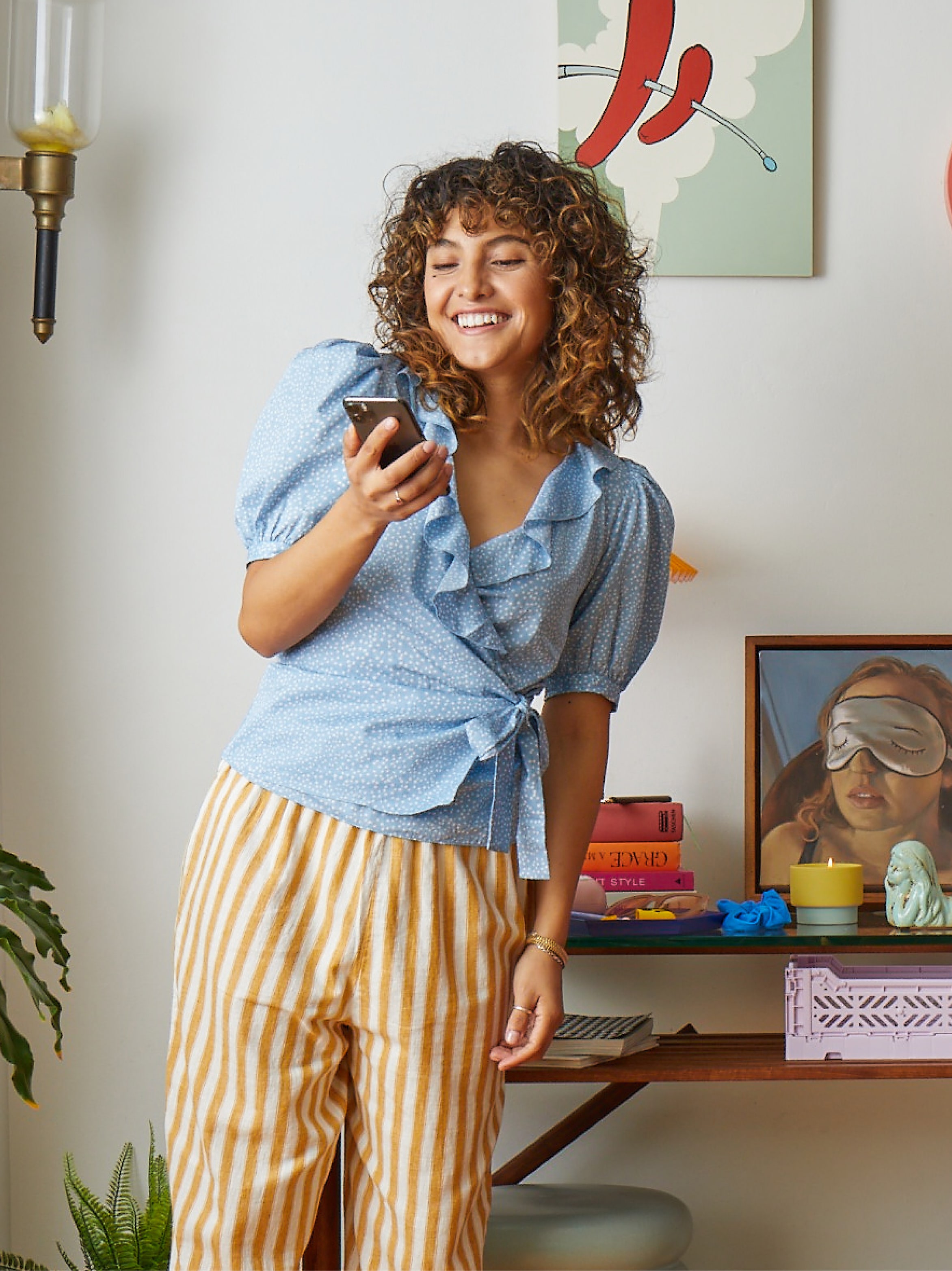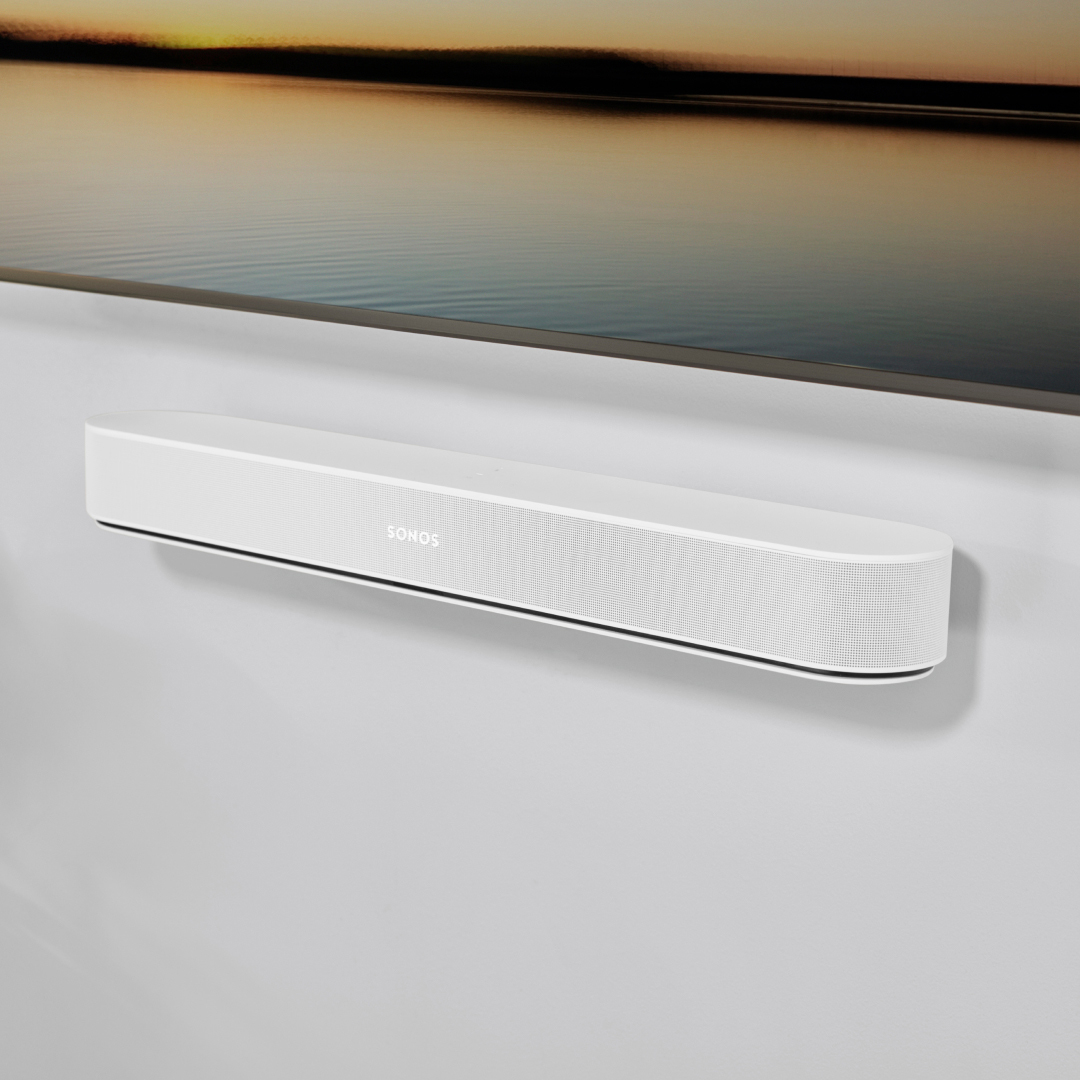 Sonos Beam Wall Mount
Make your soundbar blend even more seamlessly into your home with this near-invisible wall mount.
Surround sound, simplified
Get an even more immersive experience with a subwoofer and rear speakers. Everything connects quickly and easily over WiFi so you don't have to run wires across the room.
All five Class-D digital amplifiers have been perfectly tuned to the soundbar's unique acoustic architecture.
One center tweeter creates a crisp high-frequency response.
Four elliptical midwoofers ensure faithful playback of mid-range frequencies and maximize low-end output.
Three passive radiators enhance low frequencies for balanced, powerful sound.
The far-field microphone array uses advanced beamforming and multi-channel echo cancellation for quick and accurate voice control.
Stereo PCM, Dolby Digital, Dolby Digital Plus, Dolby Atmos (Dolby Digital Plus), Dolby Atmos*, Dolby TrueHD*, Dolby Atmos (True HD)*, Multichannel PCM*, Dolby Multichannel PCM* (*HDMI eARC connection required.) The Sonos app's Now Playing screen will display what type of audio is being decoded.
H x W x D
2.72 x 25.625 x 3.94 in. (69 x 651 x 100 mm)
Finish
Black with matte finish
White with matte finish
LEDs
Lights on the product indicate connection, mute status, microphone activation, and errors.
WiFi
Connect to WiFi with any 802.11b/g/n/ac 2.4 or 5 GHz broadcast-capable router.
HDMI eARC
Connect to your TV's HDMI eARC/ARC port with the included HDMI cable. If your TV has an optical output only, use the included Sonos Optical Audio Adapter.
Ethernet Port
10/100 port for hardwiring to your router
Power supply
Auto-switching 100-240 V, 50-60 Hz AC universal input.
Infrared (IR) receiver
Syncs with your TV remote for streamlined control
Sonos S2
Download the latest generation of the app to set up and control.
Apple AirPlay 2
Works with AirPlay 2 on Apple devices iOS 11.4 and higher.
Voice
Works with Amazon Alexa and Google Assistant.
Sonos Beam (Gen 2), Power Cable I, HDMI Cable (4.9 ft/1.5 m), Optical Audio Adapter, Documentation
Simple financing
Set up low monthly payments when you select Klarna at checkout.
Free shipping
Enjoy free expedited shipping anywhere within the US.
Easy returns
Not exactly what you wanted? Return it within 45 days. We'll cover shipping.
Professional installation
Listen now, pay later
Creating your sound system is even easier when you finance with Klarna.
Easy payments
Get low monthly payments with special financing.
Flexible plans
Set up payments that match your budget.
Pay in installments
Shop today and split purchases into 4 equal interest-free installments.
How is Beam (Gen 2) different from Beam (Gen 1)?
Beam (Gen 2) features a faster processor and HDMI eARC connection, both of which enable support for higher resolution audio formats, including Dolby Atmos. This increased processing power also gives Beam (Gen 2) five speaker arrays compared the first generation's three. The design has been updated with a new grille, monochromatic finish, and color-matched cord.
Which Sonos speakers work as surrounds?
A matching pair of the following speakers will work as surrounds: Sonos One (including SL), Sonos Five, Play:1, Play:3, and Play:5 (Gen 2). You can also use Sonos Amp to power in-wall, in-ceiling, or other passive speakers as surrounds.
Which generations of Sub will work with Beam (Gen 2)?
All generations of Sub will work with Beam (Gen 2).
What is HDMI eARC?
eARC stands for enhanced Audio Return Channel. It allows full-resolution sound signals, including Dolby Atmos, to be passed from your TV to the soundbar.
Do I need a TV that supports HDMI eARC?
No. Beam (Gen 2) can connect to TVs with eARC, ARC, or optical outputs. For greatest compatibility, eARC is recommended.

If you connect to a TV with eARC, the Dolby audio formats supported include Dolby Atmos, TrueHD, MAT, Dolby Digital Plus, and Dolby Digital.

If you connect to a TV using ARC, the Dolby audio formats supported are dependent on your TV model and manufacturer. The TV may be capable of sending Dolby Atmos, Dolby Digital Plus, and Dolby Digital. An ARC connection cannot support TrueHD or MAT.

If you connect to a TV using the optical adapter, the Dolby audio formats supported are dependent on your TV model and manufacturer. The TV may be capable of sending Dolby Digital. An optical connection cannot support Dolby Atmos, TrueHD, MAT, or Dolby Digital Plus.
What is Dolby Atmos?
Dolby Atmos is an object-based format for surround sound that designates different sounds to specific places in the room rather than channels, creating a more realistic experience by dynamically incorporating height, surround, and front channels.
How do I know if I'm getting Dolby Atmos?
Dolby Atmos is dependent on the source material as well as the TV passing an Atmos signal through the HDMI port. If the soundbar is receiving an Atmos signal, this will be displayed on the Now Playing screen and Settings menu in the Sonos app.
How does the Dolby Atmos experience differ from Beam (Gen 2) to Arc?
The processing power in Beam (Gen 2) renders two additional audio channels through the five speaker arrays and uses psychoacoustic HRTF technology to give the impression of height. Arc has two internal speakers that physically fire audio upward for a true height experience.
Will Beam (Gen 2) work with my voice assistant?
Can I control my TV with my voice?
If your TV supports CEC (TVs with HDMI will support CEC) and you have set up a voice assistant, you can control the TV with your voice.
Does Beam (Gen 2) work with Apple TV 4K?
Yes. Beam (Gen 2) will support Dolby Digital 5.1 and Dolby Atmos content with an Apple TV 4K. For Dolby Atmos content,
Apple TV 4K uses a high bandwidth format
known as MAT and requires an eARC-capable TV. Some Dolby-certified TVs can convert Apple TV 4K Atmos content to an ARC-compatible format. Check with your TV manufacturer for compatibility.
Can I use the Sonos S1 Controller app with Beam (Gen 2)?
Beam (Gen 2) requires the latest generation of the Sonos app (Sonos S2). Learn more
here
.
Take a comprehensive look at the set up, function, and maintenance of Beam. The user guide details all of its specifications and how to care for your Sonos speaker.